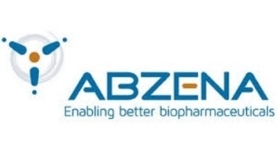 Abzena (Cambridge) Ltd
Abzena is a life science group with headquarters in the UK, and chemistry and manufacturing sites in the US. Abzena's complimentary services and technologies in chemistry, biology and manufacturing, are applied to the selection, development and manufacture of better biopharmaceuticals.
Abzena works with most of the top 20 biopharmaceutical companies and academic groups all over the world and is focused on enabling the development of better treatments for patients. Abzena's technologies have enabled many of its customers to progress products (ABZENA inside), through to clinical development.
Abzena was created through the incorporation of Antitope, PacificGMP, PolyTherics and The Chemistry Research Solution (TCRS); all of whom now trade as Abzena. Abzena's technologies and services are provided across its three sites as follows:
<p>Cambridge, UK (Babraham Research Campus), is the main location of our immunology, protein engineering, bioassays, bioanalytics, cell line development and bioconjugation activities. It is Abzena's global headquarters; housing our commercial, finance and investor relations teams.
San Diego, CA, USA is home to Abzena's GMP biopharmaceutical manufacturing plant for Phase I and II clinical trials. Cell banking, process development, batch analysis, QC release and regulatory assistance are all provided at this site for both WAVE and single-use bioreactors.
Abzena's team in Bristol, PA, USA has a strong background in synthetic organic chemistry and expertise in bioconjugation; providing research chemistry, antibody drug conjugate (ADC) services and manufacture of GMP reagents. The company's manufacturing capabilities in Bristol is being expanded to enable the manufacture of bioconjugates to GMP standards.