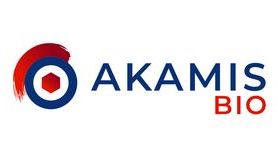 Akamis Bio Ltd
Akamis Bio is an Oxfordshire-based clinical-stage company redefining therapies for the future of cancer care. Its clinically validated, systemically dosed T-SIGn® viral vector platform delivers tumour-localised production of combinations of protein therapeutics and synthetic payloads within solid tumours.
Akamis Bio has a pipeline of novel monotherapy and combination product candidates that have shown a consistent safety profile and increasing evidence of efficacy surrogates.
Its NG-350A [two transgenes producing a secreted CD40 agonist monoclonal antibody] and NG-641 [four transgenes producing an anti-FAP bispecific plus cytokines/chemokines] are both currently in clinical trials in the US and UK while our research team continue to develop a suite of viral vectors with new and innovative transgene inserts.
Akamis Bio team of business leaders, clinicians, research scientists and other specialists are dedicated to developing new cancer treatments targeting unmet needs. They are committed to unlocking the potential of immuno-oncology in solid tumours to improve survival rates for individuals fighting cancer.
Akamis Bio is always seeking new collaborations for the innovation and development of novel therapeutic approaches with the goal of improving patients' lives.