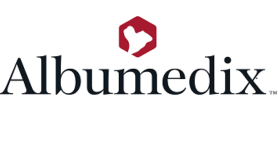 Albumedix Ltd
Albumedix develops albumin-based products and technologies for advanced drug and vaccine formulation, extended drug half-life and improved drug delivery.
Albumedix products and technologies are used in clinical and marketed drugs and out-licensed to pharmaceutical and biotech companies worldwide. With over 25 years' experience in the biopharmaceutical industry, Albumedix has the scientific, technical and regulatory expertise needed to support companies in moving faster to market with superior biotherapeutics. Albumedix also use this expertise to strengthen our own drug pipeline.
Albumedix is a global company and fully owned subsidiary of Novozymes.