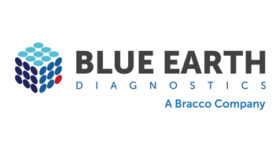 Blue Earth Diagnostics Ltd
Blue Earth Diagnostics is a leading molecular imagining diagnostics company focused on the development and commercialization of novel PET imaging agents to inform clinical managment and guide care for cancer patients.
Formed in 2014, Blue Earth Diagnostics is led by recognized experts in the clincial development and commercialization of innovative nuclear medicine products. The company's first approved and commercially available product is Axumin (fluciclovine F18), a novel molecular imaging agent aproved in the United States and the European Union for use in PET imaging to detect and localize prostate cancer in men with diagnosis of biochemical recurrence.
In May 2018, Blue Earth Diagnostics expanded its prostate cancer portfolio through the acqusition of exclusive, worldwide rights to a broad family of Prostate Specific Membrane Antigen (PSMA)-targeted radiohybrid ("rh") agents for cancer. rhPSMA is a clinical-stage, investigational class of theranostic compounds, with potential applications in both the imaging and treatment of prostate cancer.