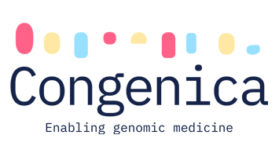 Congenica Ltd
Congenica is a digital health technology company with the world's leading Clinical Decision Support platform for accelerated genomic data interpretation. Congenica software enables genomic medicine by integrating genetic data into healthcare, empowering clinicians to provide life-changing answers that transform the lives of individuals, patients and their families.
Genetic diseases are technically difficult to diagnose, and patients often spend years waiting for a diagnosis. Congenica convert genomic data into actionable information, expediting the process through more efficient and accurate analysis. This supports healthcare professionals in providing patients with robust diagnoses and precise, personalised care.
Born out of pioneering research from the Wellcome Sanger Institute and the NHS, Congenica is headquartered in Cambridge, UK, with a global footprint across the US and China. The Congenica platform is validated by the pivotal Genomics England 100,000 Genomes Project and we are the exclusive clinical interpretation partner to the NHS Genomic Medicine Service.