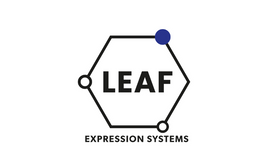 Leaf Expression Systems Limited
Leaf Expression Systems is an established contract research and product development company working to serve the global life sciences, consumer product, agribiotech and cellular food industries. Our expert team specialise in producing high value proteins and biomolecules for use within research and product development.
Current increasing demand across industries for bioactive molecules cannot be met with today's production platforms alone. Our expression technology offers a robust alternative to traditional systems and can help tackle delays due to lack of conventional manufacturing capacity or technical challenges to deliver complex biomolecules quickly and more cost-effectively, reducing the time from clinic to market.