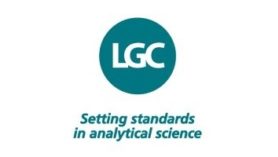 LGC Ltd
LGC is an international science-based company and market leader in analytical, forensic, biotechnology, diagnostic and product services and reference standards. LGC operates in a variety of markets which underpin the safety, health and security of the public and the regulation of industry, for both public and private sector clients.
LGC operates internationally through four divisions - LGC Forensics, LGC Genomics, LGC Standards and LGC Science & Technology. The latter includes specialist laboratories delivering contracts for the Department for Business, Innovation and Skills (BIS) and supports LGC's designated role as the UK's National Measurement Institute for chemical and bioanalytical measurement.
Our operations are extensively accredited to international quality standards such as ISO /IEC17025. With headquarters in Teddington, South West London, the LGC Group employs ca 1,460 staff in 31 laboratories and centres globally. Privatised in 1996 and now majority-owned by funds managed by Bridgepoint, LGC was founded almost 170 years ago as the Laboratory of the Government Chemist - a statutory function maintained by LGC today.