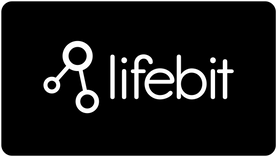 Lifebit Biotech Ltd
Lifebit is on a mission to harness the power of connected data and bring precision medicine to life globally.
The key to saving human lives and accelerating drug discovery is providing researchers across the globe with the right data. However this data is too sensitive to move, so it is often inaccessible and unusable. Lifebit's patented, federated technology brings analysis and computation to where sensitive data resides, instead of moving it around. This enables researchers to run analyses on multiple, distributed datasets, powering faster research insights.
Lifebit provides Trusted Research Environments for biobanks and healthcare providers and is powering national precision medicine programmes like Genomics England, the Danish National Genome Center and the NIHR/University of Cambridge. Biotech and pharma leaders like Boehringer Ingelheim turn to Lifebit to connect them to this otherwise locked up data and obtain novel therapeutic insights.