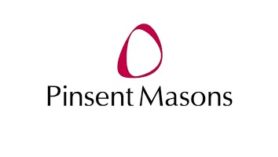 Pinsent Masons LLP
On 1 May 2012, Pinsent Masons and McGrigors merged their experience, resources and international reach. Based on the number of lawyers located in the UK, Pinsent Masons is now one of the top 12 UK law firms and the only full service commercial law firm operating across the 3 legal jurisdictions of England & Wales, Scotland and Northern Ireland. With more than 350 partners, 1,500 lawyers and 14 offices across the UK, the Gulf and Asia, the firm provides a complete range of commercial legal services across a number of sectors.
Our multi-disciplinary award winning life sciences team of specialists, many of whom have technical backgrounds and experience drawn from industry, understand the life sciences industry, the environment in which business is being done and the challenges and opportunities faced. We have a diverse client base in the public and private sector including public authorities, universities, biotechs, medical device companies, originators, generic manufacturers and parallel distributors. We advise on everything from the protection of early stage biotechnology innovations through patent litigation and licensing to national projects for central government.
Examples of our expertise include:
• Advising on multinational patent litigation concerning Lundbeck's blockbuster anti-depressant, escitalopram in an action which went all the way to the House of Lords.
• MW Encap Limited (Encap Drug Delivery): Advising Encap on its collaboration with Swedish probiotics manufacturer Probac AB to develop an oral probiotic for the treatment of antibiotic associated diahorrea .
• Advising Enroy Medical Corporation in its launch of a novel sensori-neural implantable device across Europe and the Middle East, including advice on contractual agreements and risk reduction.
As one of the few UK law firms with Life Sciences specialists in China we are ideally placed to advice clients based in the region and those looking to invest there. We also have close contacts with the biotech community in Scotland and have extensive life sciences expertise in that region.