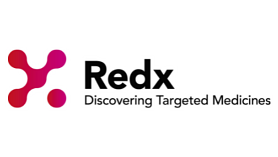 Redx Pharma Plc
Redx is a clinical-stage biotechnology company focused on the discovery and development of novel, small molecule, highly targeted therapeutics for the treatment of cancer and fibrotic disease and the emerging area of cancer-associated fibrosis.
Exceptional capabilities in medicinal chemistry and translational science are the foundation of Redx. The Company has built an attractive portfolio of assets and has a strong track record of drug discovery. Redx's drug discovery engine has delivered four molecules which have gone into the clinic and delivered a number of major partnering transactions.
The lead product RXC004 is a clinical stage, highly potent and selective, orally active once-daily Porcupine inhibitor which is being developed as a targeted therapy for Wnt-ligand driven cancer. The Company's selective ROCK2 inhibitor, RXC007, is a clinical stage, highly selective and orally available ROCK2 inhibitor being developed for the treatment of idiopathic pulmonary fibrosis and fibrotic diseases.