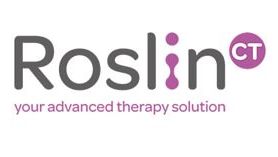 RoslinCT
RoslinCT is a leading Cell Therapy Contract Development and Manufacturing Organisation (CDMO) enabling you to bring your autologous or allogeneic therapy safely to patients. Based at the Edinburgh BioQuarter, we operate a fully licensed GMP manufacturing facility and have a proven track record in the delivery of cell-based products.
We offer a range of integrated services from technology transfer, process and assay development through to GMP manufacturing, storage, QP certification and batch release of cell-based therapies for clinical trials. We engage with leading cell and gene therapy developers providing a personalised service.
At the heart of RoslinCT is a dynamic, highly experienced team that will understand your goals and will partner with you to get your therapy to market efficiently and effectively. We put quality and integrity at the heart of the business to make sure we provide you with the trust that your life-changing therapy is on the right pathway to commercialisation.