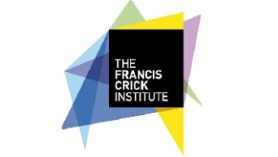 The Francis Crick Institute
The Francis Crick Institute is a biomedical discovery institute dedicated to understanding the fundamental biology underlying health and disease. Its work is helping to understand why disease develops and to translate discoveries into new ways to prevent, diagnose and treat illnesses such as cancer, heart disease, stroke, infections, and neurodegenerative diseases.
An independent organisation, its founding partners are the Medical Research Council (MRC), Cancer Research UK, Wellcome, UCL (University College London), Imperial College London and King's College London.
The Crick was formed in 2015, and in 2016 it moved into a brand new state-of-the-art building in central London which brings together 1,500 scientists and support staff working collaboratively across disciplines, making it the biggest biomedical research facility under a single roof in Europe.
The Francis Crick Institute will be world-class with a strong national role. Its distinctive vision for excellence includes commitments to collaboration; to developing emerging talent and exporting it to the rest of the UK; to public engagement; and to helping turn discoveries into treatments as quickly as possible to improve lives and strengthen the economy.