A sense of accomplishment in biotech: Fletch Fletchers' #BIGIMPACT story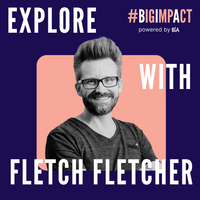 The biotech industry is a rapidly growing field with lots of potential for innovation and impact. The #BIGIMPACT campaign is encouraging individuals with digital and data-driven skills to consider a career in the biotech industry, to build a more innovative and impactful biotech industry.
In this interview, Fletch Fletcher, Vice President of Marketing at Lifebit, shares his journey since joining the life sciences sector, and his fascination on how the sector is impacting humanity.
---
What inspired you to get into the biotech industry?
I was inspired to join the biotech industry after a friend suggested it as a potential career path as up to that point, I'd spent most of my career in tech at companies like Salesforce & ExactTarget. As I learned more about the biotech field and its incredible impact on people's lives, I became fascinated by the potential to make a meaningful difference. Witnessing how advancements in biotechnology can revolutionise healthcare and improve the well-being of individuals, I felt a strong pull towards joining this industry and contributing to its growth.
What do you enjoy most about the work you do?
I've really enjoyed applying my tech enterprise software experience and my innovation and human centred design training into the biotech industry. Coming from a background in technology, I appreciate being able to bring my expertise into a field that traditionally may have yet to leverage such tools fully. It is fulfilling to introduce new ways of thinking and working, leveraging technology to drive innovation and efficiency within the company. I also enjoy the ability to change how the company operates and collaborates, encouraging a culture of openness and exploration.
What are you most proud of in your career so far?
I take immense pride in my journey at Lifebit having helped reshape the business strategy of the company. I've played a significant part in accelerating its growth and maturity. Reflecting on the progress we've made; I feel a sense of accomplishment and satisfaction. From overcoming challenges to implementing new initiatives, I have witnessed the company's transformation and its positive impact on the biotech industry.
How would you describe your company culture?
Lifebit has a vibrant and purpose-driven company culture. The culture is driven by a shared mission and vision, where everyone is aligned in their dedication to saving lives and improving healthcare outcomes. This shared purpose creates strong unity and collaboration among team members. Lifebit operates with a sense of urgency, recognising the work's importance and its impact on individuals. The culture fosters an environment where individuals are encouraged to think outside the box, take risks, and embrace innovation to drive positive change.
What piece of advice would you give to your younger self?
I would advise my younger self to embrace opportunities and say "yes", even when it feels like a "no." I believe that personal and professional growth often comes from taking on new experiences and challenges outside of one's comfort zone. You can discover your true potential and expand your horizons by pushing yourself and embracing new opportunities. I'd encourage my younger self, and others, to be open to new experiences, be willing to learn from failures, and never shy away from exploring uncharted territories. The satisfaction of a fulfilled life comes from continuously pushing yourself beyond perceived limitations.
What one word would you use to summarise your experience so far within this industry?
Inspiring.
More news
More within