Avantor's acquisition of Ritter GmbH and its affiliates
Avantor, is a Fortune 500 company and a leading global provider of mission-critical products and services to customers in the biopharma, healthcare, education & government, and advanced technologies & applied materials industries. Our portfolio is used in virtually every stage of the most important research, development and production activities in the industries we serve. Our global footprint enables us to serve more than 225,000 customer locations and gives us extensive access to research laboratories and scientists in more than 180 countries.
This acquisition of Ritter GmbH and its affiliates which completed on June 10, 2021, offers tremendous value as it combines our high-precision products and world-class manufacturing capabilities with Avantor's broad offering, global reach and strong passion for achieving scientific outcomes.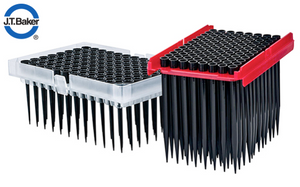 Headquartered in Schwabmünchen, Germany, Ritter is the fastest growing manufacturer of high-quality robotic and liquid handling consumables, including conductive pipette tips engineered to exacting standards. These mission-critical consumables are used in a variety of molecular screening and diagnostic applications, including real-time polymerase chain reaction (PCR), non-molecular assays such as immunoassays, emerging high throughput in vitro diagnostics (IVD) technologies including next generation sequencing, and as part of drug discovery and clinical trial testing in pharma and biotech applications.
The Robotic Tips, previously known as blackKnights and clearKnights have been re-branded as J.T.Baker. These are the same high-quality products just with a new name. Engineered to the highest production standards, our J.T.Baker robotic tips can dose even small volumes with high precision and no contamination. Available for ordering now in a variety of sizes, these tips are designed for some of the most popular robotic workstations.
Suitable for a wide range of applications, J.T.Baker conductive and clear tips and plates are trusted by many life sciences and diagnostic laboratories worldwide and are supported for easy, convenient global ordering and delivery through Avantor's market-leading e-commerce channel, vwr.com.