BIA blog: Our Charity of the Year Partnership so far
This year, the BioIndustry Association (BIA) has partnered with Kidney Research UK, the largest charity dedicated to kidney research in the UK. From breaking the BIA Gala Dinner fundraising record and challenging BIA members to compete in the #850Challenge, to preparing to jump out of a plane come September, our 2022 Charity of the Year Partnership has been jam-packed, raising awareness and funds for #TeamKidney to tackle kidney disease. Read on to see what we've accomplished together over the last eight months and how we plan to continue supporting vital research and driving innovation to put kidney disease on the UK's agenda.
---
Gala Dinner 2022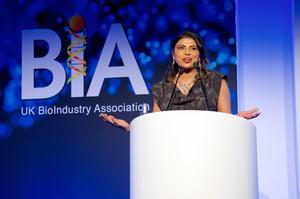 Each year, the BIA Gala Dinner proves to be a wonderful evening, with tables selling out long before the event and attendees keen to network and fundraise for our charity partner. This year was no different, with special guests in attendance including comedian Dara Ó Briain as our host, former UK Minister for Science, Research & Innovation, George Freeman MP and Jelina Berlow-Rahman, Patient Ambassador for Kidney Research UK. Jelina shared her emotional story with our attendees, detailing her kidney failure in 2005, haemodialysis treatment and the repercussions of her diagnosis.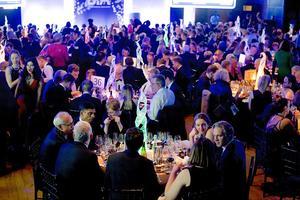 Our colleagues from across the biotech and innovative life sciences sector battled it out as part of the 'Light It Up!' competition, with tables going head-to-head to donate the most money to fund life-saving kidney treatments and get their table centrepieces lit up in rainbow colours. In total, we raised over £55,000, setting a new BIA Gala Dinner record! Our top donating tables on the night were Pinsent Masons, SR One Capital Management, LifeSci Advisors and Astex Pharmaceuticals, to whom we are extremely grateful.
BIA Global #850Challenge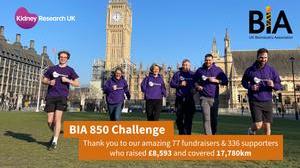 In spring, we challenged our member companies to compete against their fellow biotech companies as part of the BIA Global #850Challenge, all whilst raising money to fund vital research to transform treatments and the lives of the 850 million people with kidney disease worldwide.
BIA members certainly did not let us down, altogether running, walking, swimming or cycling over 14,491 km with some participants capping the challenge off with a 100km cycle at RideLondon.
The challenge raised a fantastic £8,593 (plus £4,000 match funding) towards our £100,000 goal for the year.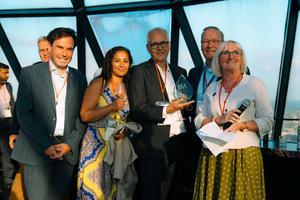 Following the success of the challenge last year, Astex Pharmaceuticals dominated the leader board once again, taking home three trophies, presented by Sandra Currie, Chief Executive of Kidney Research UK at our recent Summer Party.
🏆 Top Fundraising Team (Astex Team C)
🏆 Top Fundraiser (£1,000 raised by Puja Pathura)
🏆 Top Distance Covered (2,094 km covered by Shirley Chen)
You can read about their #850Challenge experiences in their blogs!
BIA takes the plunge!
This September, a handful of the BIA's very own staff will be launching themselves from a plane (parachute included!) from a height of over 10,000 feet to free-fall through the clouds at over 120mph. Whether or not you'd classify our jumpers as unhinged, they could use your help in reaching their fundraising goal… Please donate if you haven't yet and help us spread the word on LinkedIn or Twitter!
Gemma Howell, head of philanthropy and partnerships at Kidney Research UK, is delighted by the progress of the partnership. "BIA members have thrown themselves into supporting Kidney Research UK," she said.
"We were struck by both the enormous generosity and fantastic competitiveness shown at the Gala Dinner and throughout the #850Challenge, as well as the bravery of the skydiving BIA staff team, taking to the air for our cause.
"The benefits to our partnership have extended well beyond the pound signs. We have also appreciated the opportunities to meet and learn from BIA members at a number of events this year, and look forward to continuing these discussions as we transform kidney health.
"And now we're onto the last push, with four months to go to reach our Charity of the Year partnership target of £100,000. Your continued support will help us in our mission to transform treatments for the 850 million worldwide living with kidney disease. Thank you and good luck!"
Get involved
After reading about all this fantastic work, you might be wondering how you can get involved...
Read more about our Charity of the Year Partnership
More within