bioProcess UK poster presentation winner 2019
Posters have been an important factor of the annual bioProcessUK conference for the past few years. These sessions provide the opportunity for early career researchers to showcase their research, as well as themselves, in front of an audience including senior leaders across academic and industrial sectors of the UK bioprocessing community. A poster flash session is held early on during the conference, which maximises the visibility of these early career researchers. I have been delighted to chair this over recent years. This is a challenging, but valuable opportunity for the researchers to come onto the podium and give a short (2 minute) elevator-style pitch of their poster to the audience using just 2-3 slides. Although it may appear daunting, feedback I have received during all conferences is that this is a very rewarding experience for both the presenters and audiences. The poster flash session is followed by a series of networking sessions. This enables the poster presenters to interact with the conference delegates and to review their posters in more detail. Talent development and retention is a key performance indicator within the UK bioprocessing sector. Pall Biotech support a prize at the bioProcessUK conferences for the best poster. All conference delegates can vote on this prize and the winner is announced during the closing session of the meeting.
- Peter Levison, PALL biotech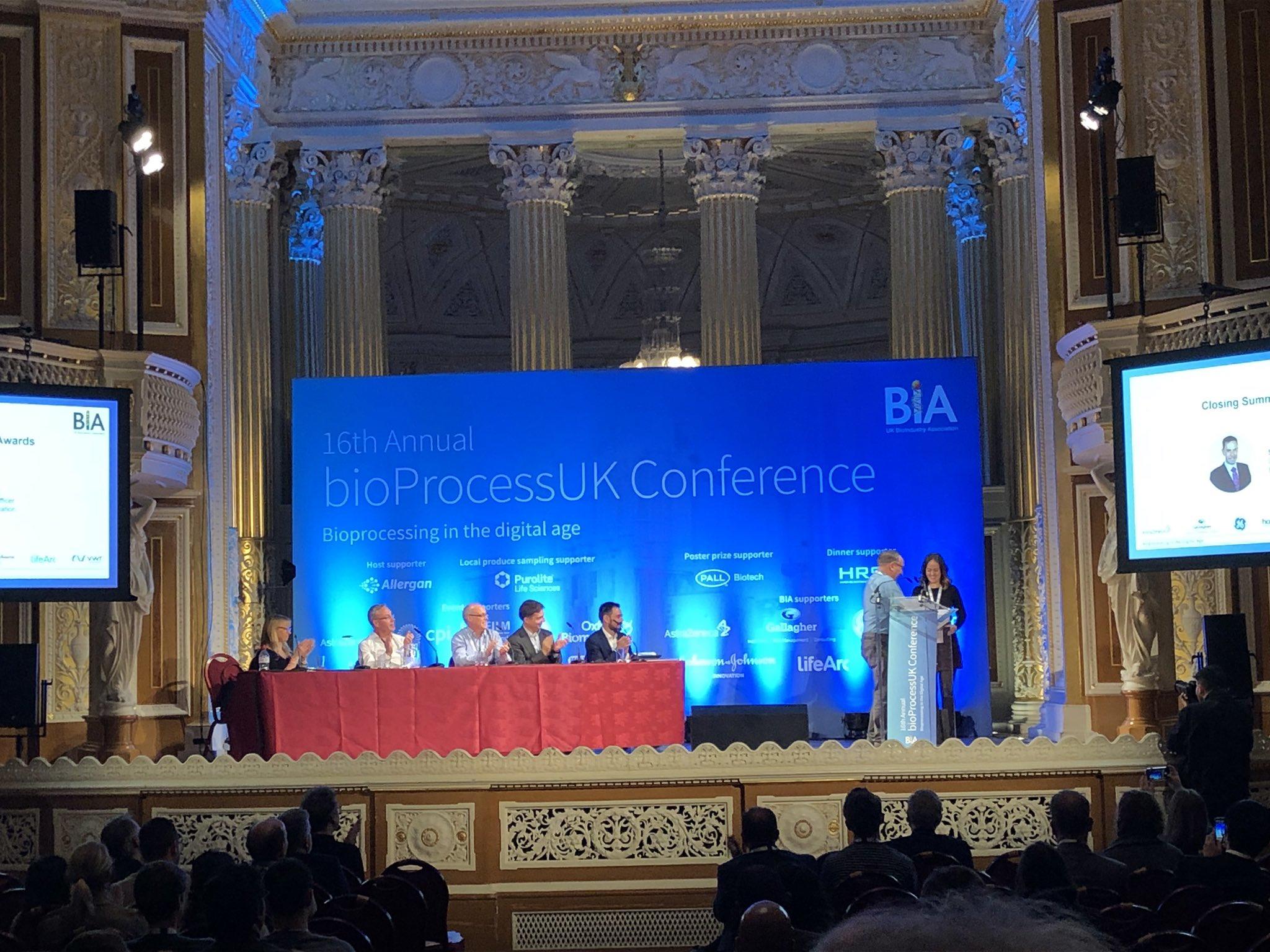 As a PhD student, I am well acquainted with the academic environment. I often attend conferences focused on niche subject areas and converse mostly with other PhD students and PIs. I was looking to gain further exposure to industry and upon attending the BioProNET STARS programme this past September, my eyes were opened to a completely new perspective. This drove my enthusiasm to learn more about the bioprocessing industry. Consequently, I applied for the bioProcessUK bursary to attend the conference and present my research in the early career poster competition. I was delighted to not only receive a place but to be offered an oral flash presentation.
I thoroughly enjoyed the conference. It was located at St George's Hall in Liverpool, a beautiful venue albeit slightly intimidating. Attending the presentations and talking to other attendees gave me a greater insight into the challenges faced in the bioprocessing industry but also the breadth of careers available to someone like me. There was plenty of opportunity to discuss my research with industrialists at my poster and it was encouraging to see that my work was of interest to so many different people. When it came to my flash presentation, it was nerve-wracking to get up onto the huge stage and present in front of a room full of industry leaders but it was a positive experience and one I would look forward to doing again.
The research I presented was entitled 'Investigating Enzymatic Methods for Preparation of Protein Conjugates', aiming to develop an orthogonal site-specific protein labelling technique using an enzyme called sortase. I am investigating variants of sortase that recognise different sequences to the native recognition sequence, whilst maintaining specificity. These enzymes can then be used to perform multiple labelling reactions on the same protein. I am approaching this project from a chemical biology perspective, synthesising a variety of 'labels' and focusing on the optimisation of bio-conjugation reactions. The purpose of the research is to expand the biochemical toolkit with applications in the biopharmaceutical industry such as the development of antibody-drug conjugates and vaccines.
At the end of the conference, I was honoured to receive the award for best poster. Although unexpected, the award was greatly appreciated and has instilled in me a confidence to pursue a career in the bioprocessing industry. When I finish my PhD, I would like to use my skillset obtained as a chemical biologist to contribute to either the innovation or manufacture of biological drugs.
Overall, this was a fantastic experience and I'm extremely grateful to the BioIndustry Association for giving me this opportunity.
- Holly Morgan, PhD student, University of Leeds