bioProcessUK: Harnessing partnerships and collaborations in bioprocessing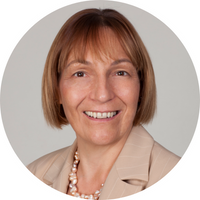 Having worked in biopharmaceutical development and bioprocessing for 40 years, Sharon Grimster was the first chairperson of the bioProcessUK conference, which remains the key go-to event in her diary. Given her role as Vice Chair of the Manufacturing Advisory Committee (MAC), Sharon helps shape the agenda and recruit contributors. This gives her opportunities to expand her network as well as keep up to date with current trends, which works well with her current role as a consultant at Redownes Ltd.
---
The 19th bioProcessUK conference was held in Edinburgh in November. Tickets were sold out in August, with over 300 participants. There is clearly enough demand to grow the event, but there is also a danger that growing too quickly would risk losing the essence of what makes it work.
Perhaps the best way to reflect on this is to look back at the origins of the conference and how it continues to evolve.
In the late 1990s, we had formed an informal group of small to mid-sized biotechs and suppliers that held quarterly meetings at each other's sites so that we could share non-competitive learnings and best practice on outsourced manufacturing. These early gatherings of the manufacturing outsourcing group attracted the attention of the Department of Trade and Industry, and following the publication of the BigT report, we were able to apply for and access funding to support the formal development of a Knowledge Transfer Network which was branded as bioProcessUK. The first conference was held in 2004 in Newcastle, and it has gained momentum since then, expanding at a controlled rate and evolving to adapt to the rapid changes in the industry.
The conference has always been known as a networking and collaboration event, part industry overview, part deep dive into current hot topics and part school reunion, but with a new school rather than an old school approach. It is now a BIA conference and organised by a working group from the Manufacturing Advisory Group which forms at the start of every year to deliver the conference in November. There is always an overview of the industry, but we have introduced some quite unique features over the years. The poster flashes are a quick-fire session where 15-20 young researchers present their posters in three minutes and have the opportunity of winning an Amazon voucher. This year's winner was Becky Sizer of York University. The Dragon's Den is another voting session where smaller innovative companies present – and each year we have a theme, this year's was sustainability and was won by Leaf Expression Systems. There are also two prestigious awards each year, the Peter Dunnill Award Lifetime Achievement Award, and the Richard Wilson Impact Award.
In 2020, (the year of the asterix on all data sets), we had our first remote event, and we introduced a session on therapeutics. The aim of this session was to showcase that the patient perspective is at the heart of what we are doing. In terms of format, we include the BIA's Charity Partner of the Year, a patient and a team engaged in bioprocessing for the therapeutic area in question. In 2020, we heard about arthritis, and in 2021 we had an incredible session about ovarian cancer, hearing first-hand from Jo Nunn, a bioProcessUK participant since the early days and formerly SVP Commercial at Fujifilm Diosynth Biotechnologies until becoming a patient herself. Jo is now working alongside Ovarian Cancer Action as a direct result of the conference, actively promoting the symptoms of Ovarian Cancer (which she asked if we might put a quick reminder here - persistent bloating, difficulty eating or feeling full quickly, frequent urination, or persistent stomach pain.)
This year the spotlight was on kidney disease, we heard from Sandra Currie, Chief Executive of Kidney Research UK; Aoife Waters, Medical Director at PureSpring and Janet Downie, who is herself a kidney donor and also a previous Chief Executive of RoslinCT. Here are the thoughts from Sandra and Aoife.
Sandra Currie:
'I just want to live a normal life but that's the difficult part. I know that's not going to happen without further developments, better drugs, better research and better understanding.'
Sharing Dale's words with an audience of people who can make those things happen in their organisation, through development, current or future work, was a pivotal moment. I relished the opportunity to co-present with others who are already working towards that now.
Many new connections were made, and tangible next steps are being planned. Some welcome opportunities to collaborate with attendees have opened new dialogue in unexpected ways.
Medical research charities, like Kidney Research UK, are vital in the life sciences ecosystem. It was heartening to see and hear so much interest in working together on this significant global healthcare challenge.
I can go back to Dale, a young kidney patient, with a more optimistic view about his future.
Aoife Waters:
Having the spotlight on kidney disease at this year's bioprocess conference represented a unique opportunity to harness partnerships across industry and continue the mission to transform the treatment and improve the lives of patients and caregivers affected by progressive kidney diseases.
Janet Downie:
Having donated a kidney to my husband Martin, I was pleased to have the opportunity to share our story of life pre and post-kidney transplant. I hope through raising awareness of the challenges of renal failure and the need for us to act quickly, will help trigger collaborations and future treatments for kidney patients, perhaps even cell therapy!
It was really heartening to share the stage with Sandra and Aoife who are leading the way in the progress of treatments and continue to work for the patient community.
The conference was a great opportunity to make connections, learn about the developments underway within the field and hear about the fantastic work of Kidney Research UK.
In summary
The bioprocess UK community has benefited from our engagement with the BIA charity partners, and we look forward to continuing this next year with Bowel Cancer UK.
What we do not measure, but maybe we should, are the diverse and unexpected collaborations that result from the conference – watch this space, maybe that will be a session for next year.
In the spirit of the conference, we will also be looking to keep pace with the industry by continuing to introduce emerging themes, having recently embraced bioprocessing 4.0, skills, sustainability and cellular agriculture.
If you are in interested in joining us at BioProcessUK 2023 in Brighton, register your interest now!
More within