bioProcessUK spotlight: Addressing and bridging the skills gap in advanced therapies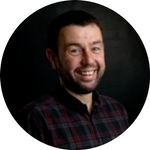 Ahead of the 19th annual bioProcessUK conference (15-17 November, Edinburgh), which will look at the latest biotech innovation and growth in the UK, read our latest blog by Stephen Stewart, Head of Skills & Apprenticeships at Cell and Gene Therapy Catapult (CGTC).
---
The CGTC Skills Team came together in 2021 to address the critical skills gap in advanced therapies in the UK by creating and facilitating the use of various skills programmes to engage new talent and upskill existing talent. If you have spoken to one of the Skills Team or have seen a presentation recently, you will be familiar with the Skills Demand Survey which was published in 2021.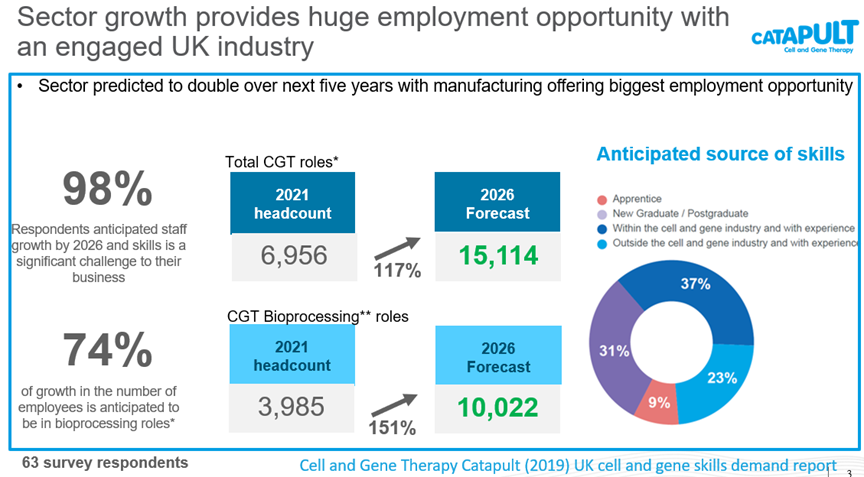 The graphic above shows both the growth from 6,956 staff to 15,114 and importantly the anticipated source of skills. Upskilling employees is critical with 37% of roles expected to be filled from within the industry. However, the sector also needs to recruit externally and expand its talent pipelines.
Early Talent
The supply of graduates in this unique field will not keep pace with demand and therefore at least 9% of the supply of labour (734) is expected to come from apprenticeships. The Advanced Therapies Apprentice Community (ATAC) is addressing this need with >280 apprentices and >50 employers engaged in the programme.

There are multiple routes for apprentices to take from science to digital and data and management. Depending on your organisation's experience with early talent, the team will help build the programme, select providers and attract and recruit the apprentices. It is a very competitive market and ATAC is supporting development of tools such as virtual reality (VR) in partnership with FourPlus, which will be demonstrated on our stands at the bioProcessUK conference in Edinburgh to help engage people with our mission. This is helping us to engage with underrepresented communities and champion diversity, equity and inclusion (DEI).
Existing Staff
With 37% of the roles expected to be filled by existing staff already within the industry, offering structured development is critical. Funded by Innovate UK, Advanced Therapies Skills Training Network (ATSTN) provides a variety of opportunities to both individuals and businesses.
The OTP (Online Training Platform) is a free tool for the sector which has been created to help increase access to the wealth of learning and development available. It has over 670 courses at all levels from induction to deep specialist. All courses are recommended by industry, ensuring that it is of the highest quality with free content and paid and online, virtual and face-to-face options available. To obtain a free licence, please register on the ATSTN website.

We have also developed National Training Centres with the support of Innovate UK under the ATSTN programme. These centres operate across the country and are based at NHC (North East), Roslin/SULSA (Scotland) and the University of Birmingham (Midlands). Each centre offers a comprehensive programme of face-to-face delivery and its own area of expertise. Courses can be accessed and booked via the ATSTN website.
As a Catapult, innovation plays a vital part of our role. We have developed VR and augmented reality (AR) with the support of our partners, AMRC and FourPlus. These new and exciting solutions offer opportunities for people to learn in a different and immersive way.
The AR will be hosted at our Sycamore House skills training laboratory from November onwards. This is a newly built facility in Stevenage with the support of the Herts LEP, containing brand-new equipment to facilitate development at various levels.
Attracting new employees
As the sector grows, we need to focus on attracting new talent. There are many people who simply do not realise that they have transferrable skills which would be desirable to many of our organisations. The Skills Demand Survey estimates that 23% of the demand would need to be found externally. This presents an exciting challenge and we have created some innovative tools to help companies achieve this. The Career Converter tool allows people to upload their CVs or input their current qualifications or job title and by the wonders of data science, they are given a report on which roles they would likely fit, the skills they already have and the skills they would need to develop. It also links potential candidates with a live career conversation with one of our specialists should they wish to talk further and provides information on where they can apply for jobs.
---
Come and visit our skills team at the bioProcessUK conference in Edinburgh on 15-17 November or visit the ATSTN website to find out how you can grow or how you can support the growth of your company.
More within