bioProcessUK: Where next for sustainable biotechnologies?
Sustainability affects us all. It's not just centred on one country or one industry, it is a collective societal goal that we should all be working towards so that we and our flora and fauna neighbours can safely co-exist on Earth well into the future.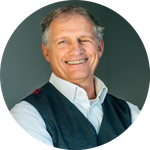 This year saw yet another successful bioProcessUK with a session specifically focussed on sustainability, where the potential of biotechnology goes far beyond healthcare, with new innovations in food, plastics and fuels. We heard from some of those companies who are helping to deliver a more sustainable future using synthetic biology and sustainable biotechnology.
Read this interview with the winner of #bioProcessUK Dragon's Den 2022, Simon Saxby, CEO of Leaf Expression Systems.
---
Q: Great to meet you Simon and congratulations on winning bioProcessUK Dragon's Den 2022. Could you tell us a little about yourself?
Simon Saxby:
I am the CEO of
Leaf Expression Systems
and an advisor to the Board of CamCon Medical. My career in life sciences spans over 40 years, with roles ranging from research scientist to CEO of both private and public companies. I have been a founder and held senior management and director positions in biotech companies since 1987. I have led the design, build and operation of GMP manufacturing facilities in the UK, US and Malaysia. I have served as Visiting Lecturer in Industrial Biotechnology at the Vienna Medical and Technical University and as an Advisor at The Boston University School of Management, USA and I am currently a visiting lecturer for the Cambridge University Masters in Biotechnology Enterprise (MBE) and the Swansea University MBA programmes.
Q: Leaf Expression Systems has a unique approach to producing biologics, can you explain a little about what Leaf do?
SS: Leaf is a contract research and product development company, we work with an array of companies across the global pharma, consumer product, agri- and cellular food industries. We produce high-value proteins and biomolecules which are used in research and product development. But what makes us different from other protein production companies is that we produce our proteins in the leaves of plants.
The plant's leaves work as a bioreactor, by taking advantage of the plant's cellular functions we can train the plant to make a chosen protein. It starts with a vector containing the DNA sequence of the protein of interest, which is then infiltrated into the plants' leaves through a method using a common plant bacterium and a vacuum. After a couple of days, the plant will then naturally start making the protein of interest which can then be extracted and purified.
Using plants has so many benefits, not only is it much cheaper but it's also quicker meaning we can work with our partners to produce products at pace, and in a circumstance such as a pandemic this is essential for vaccine research and production.
Q: You're a regular at bioProcessUK, what was your favourite session at this year's bioProcessUK conference?
SS: I found the session "Where next for medicines manufacturing in the UK" insightful. It was an excellent overview of the decline of medicines manufacturing in the UK over the past decade (and more) and the data clearly showed that Brexit accelerated this decline. It also set out a clear vision of the steps the government and industry need to take to rebuild our manufacturing capability in the UK to further enhance the significant positive contribution the life science sector makes to the UK's GDP.
Q: You're the winner of the bioProcessUK Dragon's Den 2022 – What's your motivation for entering the competition? What impact did it have on your company?
SS: We believe that it is only a matter of time before plant-based biologics become commonplace, particularly as sustainability is so high on everyone's agenda. Plant-based biologics harbour many advantages and we at Leaf deem that it is essential that the world looks for alternatives due to the increasing demands across industries. Our incentive was therefore to bring plant-based biologics into the spotlight, to highlight the advances in the technology and to increase awareness about Leaf's contract and internal R&D programmes around expression and production of proteins. We're seeing a huge demand for growth factors and cytokines for use in advanced therapies, consumer products and industries that didn't exist a decade ago. In the cultivated meat industry, for example, growth factors are an essential ingredient for cellular meat production, but the industry is experiencing bottlenecks and supply issues in the traditional methods, there just isn't a big enough supply chain.
Seeing the responses, we get particularly on social media is fantastic, it's all very positive.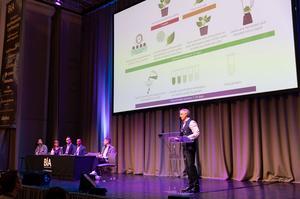 Q: What is your key takeaway from the bioProcessUK 2022? 
SS: The UK has a global reputation as being a great place for R&D, but not for commercialisation of new drugs or technologies and we have to [quickly] reverse this perception in order to compete with countries in Europe.
Q: Would you recommend attending the BioProcessUK conference to your peers and why?
SS: Definitely! It's great to have a well-organised conference focused largely on the UK life sciences sector. It's held across the UK in interesting locations, I feel this is important for a conference that is showcasing the whole of the UK industry and not just those that are based in certain locations. The balance of delegates is about right, there are not too many which means that it is possible to meet the people and companies that you're interested in. The programme is diverse making it appealing to a wide audience and this attracts different companies year on year, for a company such as ours where we can work with a wide variety of companies that's great.
Q: Where next for sustainable biotechnologies?
SS: As I said before, sustainability is high on everyone's agenda. It's written into business plans and KPIs for many companies, so the drive is there for more and more technological improvements and innovations that will continue to help reduce the carbon footprint of the sector. The regulatory framework will continually challenge the speed and adoption of new process methodologies, but that is a hurdle we're used to in the life sciences industry.
The sector is actively engaged in finding ways for the life sciences industry to be more environmentally sound today and in the future. For Leaf, we are always striving as a business for ways in which we can be more sustainable, such as recycling all our compost and collaborating with our suppliers to choose the best ecological options.
Interested in joining us at bioProcessUK 2023? Register your interest!
More within