Celebrating successes: Investments by international players into UK manufacturing
UK medicines manufacturing is buoyant after its incredible contribution to the pandemic after strong collaboration between industry, academia and government to develop, manufacture, and scale up COVID-19 vaccines. UK's manufacturing ecosystem has seen increased private and public sector investments into both manufacturing capability and supply chains since the start of the pandemic particularly in existing clusters such as Stevenage and Darlington as well as the Golden Triangle.
Fujifilm Diosynth Biotechnologies
Last year, a £400 investment plan was announced by Fujifilm Diosynth Biotechnologies to create the largest multi-modal biopharmaceutical manufacturing site in the UK, expected to be operational by late 2023. Their plan included adding a new cell culture facility in the expanded Billingham campus and tripling existing cell culture capacity capabilities at the site with the addition of 4×2,000L and 2x500L single-use bioreactor production capabilities for the manufacture of both monoclonal and novel antibody treatments. This is expected to create up to 350 highly-skilled jobs.
Fujifilm Diosynth Biotechnologies will be joining the 19th Annual bioProcessUK conference in Edinburgh. On 16 November, Dr Kit Erlebach, Strategic and Transformational Venture Manager at Fujifilm Diosynth Biotechnologies & Chair of BIA Manufacturing Advisory Committee (MAC), will be providing a snapshot of the UK's biomanufacturing landscape, followed by Dr Jonathan Haigh, Vice-President Process Development, who will be presenting their MaruX™ technology. Read their latest blog to find out more.
Catalent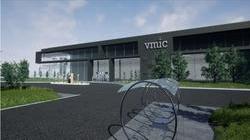 Earlier this year, Catalent, a significant US manufacturer, purchased a biologics development and manufacturing facility currently under construction near Oxford from the Vaccine Manufacturing and Innovation Centre UK Limited (VMIC Ltd.). Catalent's new facility will employ more than 400 people and support public and private organisations seeking to develop and manufacture biotherapeutics.
Following this announcement, Steve Bates OBE, CEO of BIA said: "I welcome Catalent's purchase of the VMIC facility, they have a track record of, and ability to, invest further in the site and team for years to come. Through this process, a significant US manufacturer has been brought into the UK bioprocessing ecosystem.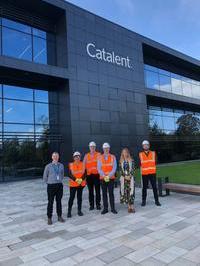 "Significant additional private and public sector vaccine manufacturing capability is coming online in the next few years in the UK. The UK already has more capability than was identified at the start of the pandemic in early 2020 which can support future global pandemic responses and the creation of other innovative therapies and medicines for the benefit of patients."
Don't miss Catalent's session on 'Empowering Bioprocessing Innovation in the U.K. to Bring Therapies to Patients, Faster' at our bioProcessUK Conference with David Nascimento-Brooks Senior Account Director, Business Development, at Catalent Biologics!
Moderna
In June 2022, in agreement in principle with the UK government, Moderna announced their plan to bring mRNA innovation to the UK through the establishment of a state-of-the-art mRNA Innovation and Technology Center. This manufacturing facility is expected to provide access to rapid pandemic response capabilities and Moderna's respiratory virus vaccine candidates. Additionally, Moderna plans to expand its presence in the UK through investments in research and development (R&D) activities.
Moderna joined the BIA last month, as our 500th member. Darius Hughes, UK General Manager at Moderna said: "We are delighted to join the BIA as the 500th member. Moderna's vision is to harness the power of mRNA science to create a new generation of transformative vaccines and medicines for patients and we have plans to expand our presence in the UK through investments in research and development. The UK has a world-class life sciences and research community, and we recognise the importance of working with the BIA and its members to ensure the benefits and ambitions of the UK life sciences vision are realised in practice."
Oxford Biomedica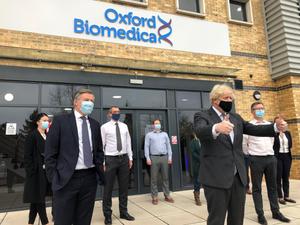 Last year, former Prime Minister Boris Johnson, officially opened Oxford Biomedica's new 84,000 sq ft manufacturing facility Oxbox based in Oxford, UK. Later in 2021, they also received a £50m investment from the Serum Institute of India which will be used to fund the development of the fallow area at Oxbox, into a flexible advanced manufacturing space and the validation of several independent cGMP suites, expected to come online in mid-2023.
Oxford Biomedica will be joining us at our bioProcessUK Conference as our event supporter! If you'll be there, you can find their exhibition stand at table 32 in the ballroom!
Dr Simon Simpkins , Vice President and Head of Operational Strategy at Oxford Biomedica will be presenting 'All data great and small' on Day 2 of the conference, don't miss it! Read his spotlight blog on the company's digital future!
More within