CEO Update | 11 July 2022
Political meltdown in Westminster
As Westminster Politics endures another meltdown, our sector keeps delivering. My 48-hour COVID symptoms late last week lasted longer than some government ministers in post.
Boris Johnson's announcement of his departure as Prime Minister last Thursday has kicked off a Conservative Party leadership election, which will reset Westminster politics once again. Further key ministers who engaged with our sector have resigned including Chancellor Rishi Sunak, Health Secretary Sajid Javid, Science Minister George Freeman, Pensions Minister Guy Opperman and Trade Minister Gerry Grimstone.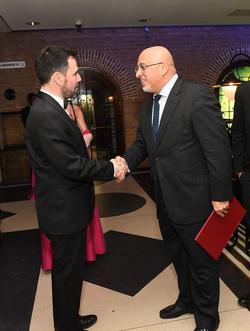 Despite announcing his resignation last week, Boris Johnson has filled cabinet positions, at least on a caretaker basis, including Steve Barclay as Secretary of State for Health and Social Care. A well-known face has been made Chancellor of the Exchequer, with former COVID-19 vaccines minister Nadhim Zahawi taking up the post. Nadhim, who came to our Gala Dinner in 2020, has seen first-hand the incredible science, entrepreneurship and collaborative nature of the UK biotech and life sciences sector to deliver health and economic benefit to patients and the taxpayer respectively. We are still waiting to see who will fill the post of the Minister for Science Research and Innovation, as George Freeman's offer to return to the Government has been declined. Lord Kamall, Minister for Technology, Innovation and Life Sciences remains in post.
This was the week the Boris administration had pencilled in to update on progress and celebrate the one-year anniversary of the publication of the Life Sciences Vision, and some of this activity seems to be continuing. For instance, the week kicked off with the announcement of £1 billion of investment in the Crick Institute for the next 7 years – jointly between the Medical Research Council, Cancer Research UK and Wellcome. We'll keep a close eye on any further developments.
I intend to use our Summer Party at the Gherkin this Thursday to celebrate the progress of our sector in the last year. We will use our presence in the City to reinforce the need for work on scale-up finance to support growing and innovative companies. I'm confident worked up ideas on how to grow the UK economy at pace to scale will continue to attract support from a wide range of the political spectrum.
We will monitor the Conservative leadership contest in detail for what it means for our sector and how the other parties position and react. But for a few weeks, the strategic direction of government policy is unclear.
In the meantime, our sector continues to strengthen and grow.
CPI receives funding from CEPI to advance all-in-one COVID-19 vaccine
CPI announced they would be receiving funding from CEPI to progress work on developing a novel vaccine to provide protection against COVID-19 caused by current and future SARS-CoV‑2 variants, where CPI will lead manufacturing efforts. CPI has been a key player in the UK response to COVID-19, CPI is pushing ahead with an mRNA centre of excellence and training academy in Darlington, which is always already being noted by international players for this emerging skill advantage.
Touchlight signs patent license agreement with Pfizer
Further good news for UK manufacturing as Touchlight announced a licence agreement with Pfizer to utilise rapid, scalable, enzymatic doggybone DNA (dbDNA) in Pfizer's clinical and commercial manufacture of its mRNA vaccines, therapeutics, and gene therapies. This follows Touchlight's announcement last year to expand their manufacturing footprint in their West London facility which will triple the company's existing DNA manufacturing capacity.
Artificial Intelligence and IP
The Government published a response to the UKIPO's consultation on Artificial Intelligence & IP (copyright and patents), which the BIA responded to in January. In our response, we recommended that no legal change should be made to the status quo regarding computer-generated works (CGW); that a text and data mining (TDM) exception should be introduced that allows mining of both copyright works and databases, for both non-commercial and commercial use; and that if an AI system is the actual deviser of an invention then that invention should be afforded the same protection as a human conceived invention, but that changes to AI patentability should be conducted in close consultation with other countries to achieve harmonisation where possible.
The Government will not be making any legal changes to CGWs and AI patentability at this stage, seeking international conversations on how to best approach the latter. From our perspective, this is a sensible direction of travel. The BIA's IP Advisory Committee continues conversations on the role of AI and IP in the life sciences sector with the UK IPO. Thank you to our expert members who have contributed to this important agenda for the future of our sector.
DIT's Digital Health Playbook
The Department for International Trade (DIT)'s Digital Health Playbook is inviting British innovators to join its next edition. Due to launch in October 2022, the new edition of the Playbook will present the UK's Digital Health to a global audience through DIT's trade representatives in British embassies, consulates and high commissions worldwide.
Who knows what the next week will bring? I look forward to seeing many of you on Thursday.
More within