CEO Update | 16 January 2023
UK out in force at JPM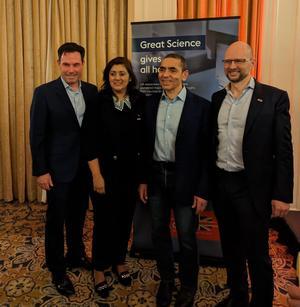 It was great to see the UK out in force at the annual JPM conference in San Francisco last week, especially at the reception we hosted with the Government at the Marines' Memorial Club. With over 300 attendees, I know many of you found meeting BioNTech founder and CEO Uğur Şahin a highlight. It was great to learn that BioNTech is opening space in Cambridge, UK and marked their JPM week with the announcement of the acquisition of UK AI start-up InstaDeep in £562 million deal.
In a very stormy San Francisco, the mood music matched the weather – with none of the over-exuberance seen in previous years. Few were expecting NASDAQ to reopen to biotech IPOs anytime soon, although it is clear that pharma firms are still looking to fill pipelines and rely on biotech to deliver. Case in point AstraZeneca's $1.3 billion acquisition of CinCor Pharma was one of the headlines last week. BIA member Ipsen revealed a deal for Boston-based Albireo worth $952 million upfront. Stock market reaction to the week was flat. Across the US markets the biotech indices are up 1% since the start of the year.
With a strong delegation, the UK is seen as well placed for the year ahead – with strong companies and leaderships well used to operating on limited cash runways. We are also strong in the technologies that are gaining closest attention – mRNA (with BioNTech and Moderna now setting up shop in the UK), genomics and AI.
R&D tax credit consultation issued by HMT – some positive movement
The Treasury's consultation on a single R&D tax relief scheme, merging the current SME and RDEC schemes, landed at 2 pm on Friday. This is the biggest reform of the regime since it was established in 2000 and poses both opportunities and risks for our sector. The merged scheme is intended to offer the same level of support regardless of company stage or size, but we are pleased to see HM Treasury is asking whether R&D-intensive businesses should receive additional support and if SMEs require transitional arrangements to help them through.
A merged scheme could provide better value for taxpayers' money by targeting the incentive to the most economically valuable companies and cutting fraud. It could also be tailored better to incentivise job creation and innovation in the UK. However, there is also a risk that the Government could score an own-goal by inadvertently taking away the key policy that has helped grow the life science SME sector by over 1000% in the past decade and delivered life-changing medicines. Any new scheme must be compatible with the biotech business model and recognise that R&D-intensive start-ups and scaling businesses face particular market failures and need additional government support compared to larger companies.
The consultation also recognises the relief rate cut announced at the Autumn Statement causes problems for the life sciences sector and commits the Treasury to work with industry on further support leading up to the 15 March Spring Budget. This was already communicated to us in the Chancellor's letter to BIA that I wrote about last week. Our Finance and Tax Advisory Committee (FTAC) is already working hard on that package of support and will now be picking up the consultation on the merged scheme. Thanks to all of you who have already supported this work by signing letters and providing data. Please do keep engaging with us as we work to secure a positive outcome for our sector and do also consider submitting your own response to the consultation. The number of responses the Treasury receives really does make a difference. Contact our Head of Policy and Public Affairs, Martin Turner, for further information.
SV Biotech Crossover Opportunities
Congratulations to SV Health Investors for the launch of their SV Biotech Crossover Opportunities Fund. British Patient Capital and Mubadala, the Abu Dhabi sovereign wealth fund, are co-investing in the fund as part of the Government's Life Sciences Investment Programme (LSIP), set up to support the creation of late-stage VC funds. It's the first allocation of the £200m LSIP and another positive step for the scale-up agenda BIA has championed.
George Freeman speech
Science Minister George Freeman updated on the Government's position on Horizon Europe in his keynote speech opening the year at the think tank Onward. Watch the full speech entitled Science Superpower: the UK's Global Science Strategy beyond Horizon Europe.
He said the Government is pushing ahead with preparations for 'Plan B', which would include initiatives to attract scientific talent from around the world to Britain and set up bilateral and multilateral collaborations. But he added that the Government was "continuing to push actively for association with Horizon Europe", the €95 billion EU research programme. Channelling Boris Johnson, he said: "I want us to have our cake and eat it, I want to be in a very strong European collaborative ecosystem while making our science and research have more global impact". We may see this week if a breakthrough on the Northern Ireland protocol could pave the way for a more constructive dialogue between the UK Government and the EU on other matters too.
Parliamentary anti-vax opinion
MP Andrew Brigden lost the Conservative whip last week after comparing the COVID-19 vaccine programme to the Holocaust in a now-deleted tweet. Simon Hart MP, the Conservative chief whip, said: "Andrew Bridgen has crossed a line, causing great offence in the process. Misinformation about the vaccine causes harm and costs lives". The need to continue to explain the science behind biotech to parliamentarians remains vital to our sector, especially as we see the development of all-party parliamentary groups like the All-Party Parliamentary Group on Covid-19 Vaccine Damage now having a formal status in parliament. We continue to explain and inform through our secretariat work for the long-standing APPG for Life Sciences.
PULSE applications are closing this week
PULSE (Programme for Up and coming Life Sciences Entrepreneurs) is a free three-day leadership and entrepreneurship training programme for aspiring entrepreneurs and first-time CEOs. Hosted at the Francis Crick Institute, the programme offers a mix of sessions, talks and interactive exercises as well as practical advice and feedback from established CEOs, leading entrepreneurs and renowned professionals. Applications are closing this Sunday, submit your application and help us spread the word by sharing PULSE 2023 with your networks.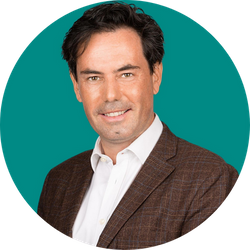 Steve Bates OBE
CEO, BioIndustry Association
More news and updates
More within