CEO Update | 17 January 2022
The UK sector was out in virtual force at the annual JP Morgan Healthcare conference held virtually last week. It was great to see UK companies at the forefront of the global themes – for instance in Exscientia's tie-up with Sanofi for AI in drug development. How the use of genomics will develop industrially is another area where both British companies like Oxford Nanopore, and UK practice – in both rare disease and COVID-19 variants puts the UK centre stage.
It is also great to see healthy financial pictures, full pipelines and a calendar of key regulatory dates across the BIA membership giving me full confidence that our sector is in for an exciting 2022 in life sciences. I think this is set to be the year that many of the innovations pioneered in COVID-19, whether they be scientific, technical, novel partnerships or bureaucratic changes will bear fruit for other disease areas and broader parts of the healthcare environment.
And the UK is truly well set with key companies pioneering and succeeded as a core node in the global innovation network. That for me is the reason why I think JP Morgan saw the value in having a UK keynote session last Tuesday, which it was great to see our Prime Minister come and address the conference, the only global political leader to do so. It pays testament to the strength of our sector's partnership working with the UK government that the BIA has been central to building over the past few years.
BIA Gala Dinner and Pre Gala Dinner Finance event
I'm really looking forward to seeing many of you next week as we gather in person to celebrate the achievements of the sector at the BIA Gala Dinner on 27 January. We'll have a slightly different format this year reflecting the public health advice we are currently operating under. I'm glad to confirm that Science Minister George Freeman MP will be our pre dinner keynote speaker.
We are also holding a pre Gala dinner event on the afternoon of 27 January focusing on financing of our sector. The event will look at how the financial firepower of the City of London can be deployed behind UK life sciences and we will discuss how this can be achieved with Science Minister George Freeman MP and financial and industry experts.
VTF Onshoring early market engagement notification
One of the BIA's ambitions for the UK post pandemic is to have greater resilience in the UK supply chain supporting life science innovation and manufacture. To this end it is good to see the UK Government Vaccine Taskforce (VTF) engaging the market to increase its understanding of barriers, risks and opportunities to facilitate investment and build resilience in the vaccine supply chain.
The way the VTF have chosen to do this is by issuing a Prior Information Notice (PIN). If your business supplies Single Use Technology consumables/accessories, and/or biobags, and/or filters to the vaccine (or biomanufacturing) supply chain, please reply to the PIN which will engage you with the VTF, enabling them to understand your business and what it does. This also means you will be "in the system" and your capability better understood if the UK government decides to procure in this area in coming weeks or months.
Although this process might seem bureaucratic, it does have benefits of being transparent and open to all across the UK, with no need to contact an MP or Minister first to participate. Further information available on the Eventbrite website.
The deadline for responses to the questionnaire is 16th February.
I'm also told the VTF continually monitors risks and opportunities which are not within scope of this PIN, and may carry out further market engagement over the coming months dependent upon further analysis. If we become aware of such opportunities, I will share the links in Newscast.
Advanced Therapies National Apprenticeship Week
I want to draw colleagues attention to National Apprenticeship Week (7-13 February), where the Advanced Therapies Apprenticeship Community (ATAC) is hosting various online events. I know from conversation with members that this is a key area for many companies, so do make sure to get along to ATAC's events to hear more about the exciting work taking place in this space.
JVT stepping down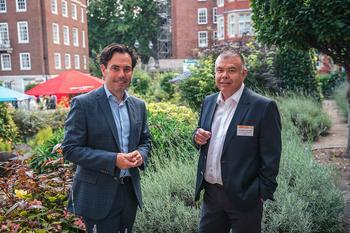 It was announced last week that Professor Sir Jonathan Van-Tam will be stepping down as the Deputy Chief Medical Officer for England at the end of March and will be returning to the University of Nottingham as Pro-vice Chancellor for Faculty of Medicine and Health Sciences. It is great to see JVT will remain in our innovation ecosystem and his popular extended metaphors not lost to our community. I would like to pay tribute to the work JVT has done in government. During my time on the Vaccine Taskforce, JVT was a key player in understanding and supporting the work of vaccine manufacturers to develop, manufacture, scale up and ultimately deploy COVID-19 vaccines.
Here's a picture of him and I enjoying the rescheduled BIA Garden Party last September, which was fully compliant with the English public health guidance and legislation at the time.
Steve Bates OBE
CEO, BioIndustry Association
---
More news and updates
More within