CEO Update | 18 July 2022
Enjoying the summer sun in the Gherkin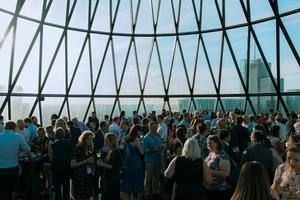 Thank you so much to everyone who attended our sell-out Summer Party in the Gherkin last week. With 360-degree views of central London, I really enjoyed catching up with you all.
Congratulations to Astex Pharmaceuticals, the winners of our 850 Global Challenge, who were presented with their awards at the reception by Sandra Currie, CEO of Kidney Research UK.

This was our last in-person event before the summer holidays, we do have a webinar on the upcoming changes to the R&D tax relief regime on Wednesday 27 July, which I encourage members to attend. See our in-person autumn calendar, which already has dates for BIA regionals, Women in Biotech and our TechBio UK conference on 13 October.
Covid – cases rise: Royal Society science of COVID-19 conference report published and Kate Bingham interview
Earlier this year, I, alongside colleagues from Imperial College London and AstraZeneca, helped organise the Royal Society conference on the science of COVID-19. The report of the conference was published last week (scroll down to the overview section to see the report). It is fascinating content, looking at how the past two years have been marked by unprecedented levels of collaboration and innovation across academia, industry, the NHS and government, and how these developments are likely to influence preparedness efforts for future public health emergencies and benefit the life sciences sector more broadly. Well worth a read.
With Covid infections rising rapidly in the UK and far higher than this time last year, I was also interested to read Kate Bingham's interview with the Guardian. On the anniversary of legal Covid restrictions being lifted, she praised quick government decision-making during her time leading the UK vaccine taskforce, as well as Boris Johnson's willingness to put money into the vaccines upfront. She also said there had since been missed opportunities – including failing to bring scientific and commercial expertise into the government and not pursuing the creation of bulk antibody-manufacturing capabilities in the UK.
New dawn for GSK
Today marks a key moment for GSK, as its spin-off consumer arm Haleon debuts on the London Stock Exchange as the biggest European listing in a decade. With the split now complete, it is great to see Emma Walmsley describing today as "day one of our new era, and our new purpose: we're now 100% focused on biopharma innovation, uniting science, technology and talent to get ahead of disease together". For those of you with a sharp eye for design, you'll see there is a new look to match the focused vision.
For all at GSK, congratulations and good luck on the journey – you are a key company in our innovation ecosystem and it is great to see your thinking match – in a TechBio way – with that of many BIA member companies.
Oxford Science Enterprises raise further £250 million
Congratulations to Oxford Science Enterprises (OSE) who have today announced that they have raised a further £250 million. The new funding deepens capital pool available to drive the creation and growth of transformational businesses built on ground-breaking Oxford science, to create new spinouts across Life Sciences, Health Tech and Deep Tech. This brings the total amount raised by OSE to more than £850 million (>$1 billion) since its inception in 2015.
Our work with policymakers and stakeholders
We've published our quarterly influencing report which gives an overview of key policy developments and the BIA's continued involvement with policymakers, regulatory authorities and wider stakeholders on behalf of the UK life sciences sector, from April to July 2022.
This quarter, BIA continued to work with government partners to realise the ambition of the Life Science Vision by contributing to the production of a roadmap for its delivery, due in the autumn. Our annual Parliament Day in June saw an intense day of influencing and networking for our members with parliamentarians and senior government stakeholders in Westminster, topped by a lunchtime address from then-Minister George Freeman. We launched an
Innovation Map
to help early-stage life sciences companies find the right support, developed an engineering biology brochure with the Department for International Trade, and our latest quarterly finance report shows investment in the life sciences sector continued despite a global investment slowdown across sectors.
Steve Bates OBE
CEO, BioIndustry Association
---
More news and updates
More within