CEO Update - 22 May 2023
Life Science Council
On Thursday I will be attending the bi-annual UK Life Science Council, the set piece meeting of the UK life science industry with the UK government. Thanks to months-long backroom work, by the BIA team and civil servants, I think the scene is set for a productive discussion on the Scale Up finance agenda, what we need to do to get clinical trials going again in the UK and how we can support the development of a skilled workforce in life science. I'm also looking forward to hearing more about the healthcare missions and how the MHRA plans to use its new capacity. More on this next week.
BIA Start-up Festival
Thursday is also the day of our sold-out Start Up Festival – the first one we've been able to do in person. I'm really excited to meet some of the UK's most innovative life science start-ups and I'm sure they will enjoy the peer networking and ecosystem mentoring the BIA team has organized. It's fantastic to see such vibrancy at the earliest stage of company formation and it gives me great confidence that the UK offers a great place to turn early science into products and services for the globe.
Brits at BIO webinar
The global BIO International Convention conference is just two weeks away and the UK looks well set to have a high profile and visible presence at the event in Boston this year. I think we've finally got our arms around almost all that is going on and will share all we know on our webinar tomorrow. I've been attending for more than a decade so hope I'll be able to answer most questions – and it's great to see strong support from UK government and ministers this year. So, if you are going for the very first time, or have been many times before, our webinar is planned to save you time and give you the lowdown on one of the busiest weeks in biotech. Do join us tomorrow at noon!
World Health Assembly
A big week in Geneva this week as the formal meeting of the World Health Organisation (WHO) in its full Assembly format takes place. It's good to see increased global cooperation with the formation of the new International Pathogen Surveillance Network (IPSN). With a Secretariat hosted by the WHO Hub for Pandemic and Epidemic Intelligence, IPSN will bring together genomics and data analytics experts worldwide from governments, philanthropic foundations, multilateral organisations, civil society, academia and the private sector to improve systems for collecting and analysing pathogen genomics samples. This will help scientists and public health officials identify and track diseases to prevent and respond to outbreaks and to develop treatments and vaccines. Dame Jenny Harries, Chief Executive, UK Health Security Agency spoke at the launch of this initiative driven by the German government.
Also in Geneva, the UK government used the week to highlight £39 million funding for AMR research. Of this, up to £24 million over four years will bolster the UK's partnership with CARB-X – a global AMR research initiative – to support the continued early development of invaluable new antibiotics, vaccines, rapid diagnostics and other products to combat life-threatening drug-resistant infections and prevent death and disease across the world. You can see which companies have benefited so far in their annual report.
Sycamore House Stevenage open
It was a pleasure to be part of the celebration opening Sycamore House in Stevenage last week joining the growing life science community there. What was particularly impressive to me is the Cell and gene therapy Catapults training suite – where it was inspirational to see the next generation of our ecosystem learning on VR some of the key skills needed to work in the clean rooms that can make at scale advanced therapies.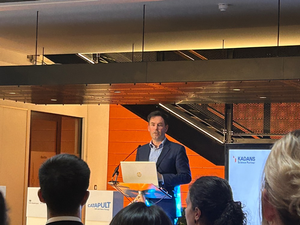 Summer Party selling out
To avoid disappointment I encourage you to book your ticket for our Summer Party on 13 July. We will be at a fabulous indoor/outdoor location at the Langham Hotel for the first time. I'm seeing a real desire from members to get out and network in 2023 and as such nearly all our events are selling out many weeks before – a real change from 2022. I look forward to seeing you soon.
Steve Bates OBE
CEO, BioIndustry Association
More news and updates
More within