CEO Update | 23 May 2022
BIA celebrates RQ BIO licencing agreement with AstraZeneca
We had fantastic news last week when RQ BIO announced a licencing agreement with AstraZeneca for its portfolio of early-stage monoclonal antibodies targeted against SARS-CoV-2, with the company also emerging from stealth mode on completion of the agreement. RQ BIO is a UK-based biotechnology company focused on developing treatments and preventative therapies based on potent broad-spectrum mAbs to address areas of unmet need in vulnerable patient populations.
RQ BIO's founders were brought together in March 2020 when the BIA formed the UK BIA Antibody Taskforce, a consortium of biotech companies, academia and charities to identify and develop neutralising antibodies to protect at-risk groups and avoid lockdowns. The UK BIA Antibody Taskforce's major milestones included developing an accelerated and rigorous approach to creating a pool of over 600 novel candidates and identifying a set of antibodies with the greatest potential in record time. Rather than taking the industry standard 18 months for antibody discovery, the Taskforce did it in less than seven.

So it is great to see a new company emerge through Life Arc's company building and financing support, with a leadership team that has a strong track record of delivering innovative products and a deep commitment to the UK life sciences and biotech sector. RQ BIO is a true UK success story, innovative science built upon strong collaborations with companies, academia and charities, which the BIA was proud to coalesce resulting in a licencing deal with a key global player (and BIA member) AstraZeneca.
BIA publishes analysis of Innovation Map at Start-up Festival
I was delighted to join over 90 entrepreneurs for the BIA Start-up Festival which provided learning and networking opportunities for those starting and growing their businesses. At the festival, we launched an analysis of the BIA Innovation Map, a key resource for early career biotech and life sciences entrepreneurs, helping them navigate an often-complex environment to source networking and investment opportunities.
Our analysis showed that 63% of programmes are within the Golden Triangle of Oxford, London and Cambridge. By country, 86% of programmes were in England, 9% in Scotland and 5% in Northern Ireland. No programmes were identified in Wales. 52% of programmes offered funding to entrepreneurs, with 78% of those programmes taking no equity, while 68% of programmes offer expertise (mentorship and networking opportunities) and 40% of programmes offer introductions to investors.
Bicycle Therapeutics and IQVIA opening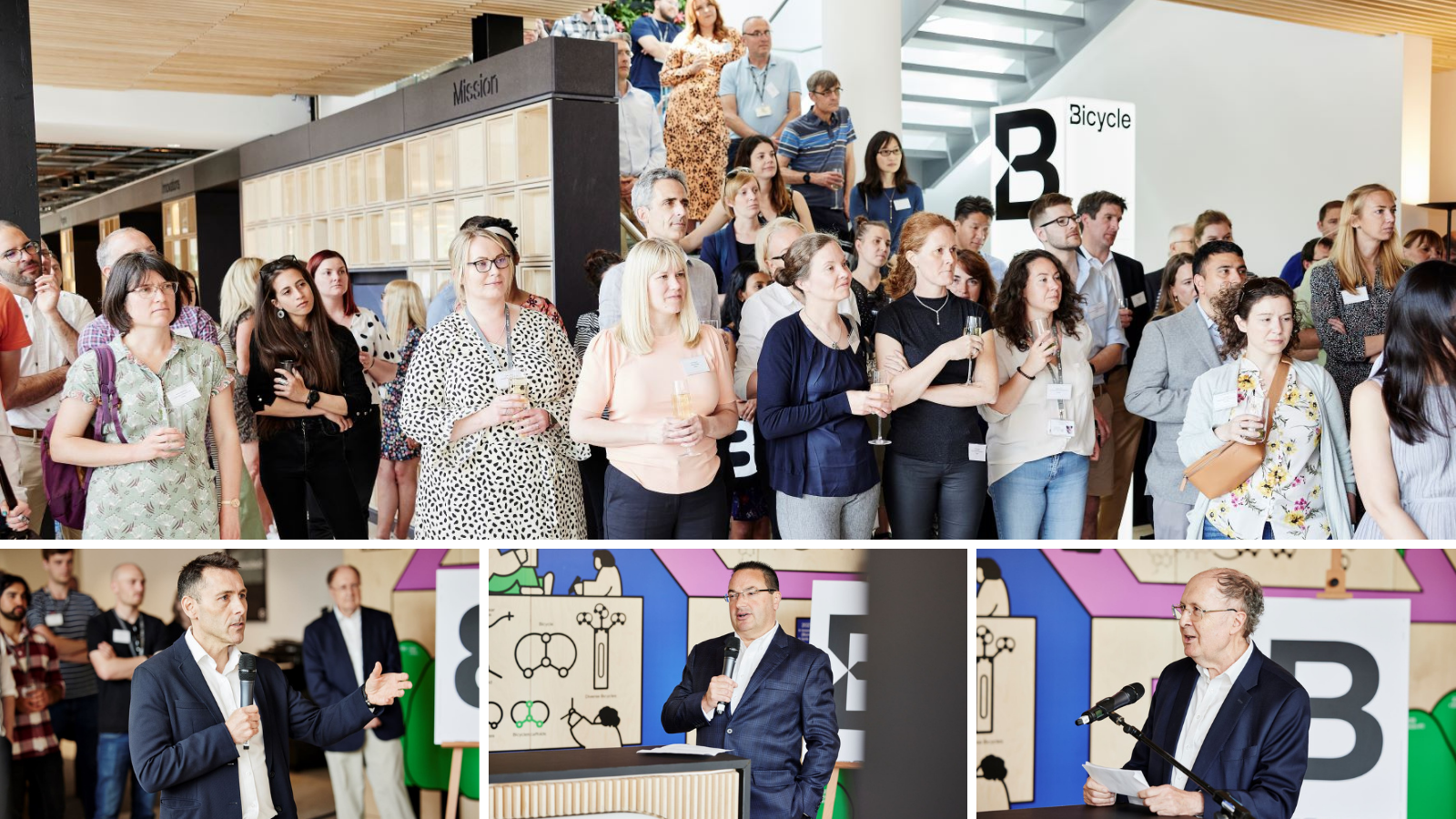 I had the pleasure of attending not just one but two, member new build celebrations last week showing how our sector continues to grow and thrive. Bicycle Therapeutics' new labs and offices at Granta Park in Cambridge combine state of the art laboratories with office space designed to inspire collaborative working "like a magnet not via mandate" and it was good to see the team enjoying the new space. Greg Winter made a great speech explaining the company's science and the journey took so far.
It was great to celebrate the partnership working on the ONS COVID study with IQVIA as they opened their new space in Paddington – auspiciously not only right by the transport hub but a stone's throw from where Penicillin was discovered by Fleming at St Mary's Hospital.
Steve Bates OBE
CEO, BioIndustry Association
---
More news and updates