CEO Update - 31 July 2023
UK leads global discussion on TRIPS, IP and Voluntary licensing
I am glad to see the UK continue to seek a global leading role in the discussions about pandemic preparedness and the role of intellectual property. A new communication from the UK government has been circulated at the World Trade Organisation (WTO) in Geneva making the case for a close examination of how voluntary licensing processes actually work and "to ensure any discussion is underpinned by evidence". It suggests that "the involvement of external stakeholders with expertise should also be considered, such as the World Intellectual Property Organisation (WIPO) and World Health Organisation (WHO)" and that "the role of business, civil society, and academia should also be considered."
Such discussions could be held as part of thematic sessions organised by the TRIPS Council as they relate to IP aspects of a partnership. What is clear is that voluntary licensing and technology transfer is a complex but essential tool for achieving equitable access. This suggestion to include experts from all sides who have brokered and participated in such schemes in the future policy formation should lead to better, more implementable policy if adopted. We will work with global colleagues through the International Council of Biotechnology Associations (ICBA) to promote this dialogue at the WTO and WHO this autumn in Geneva. At a time when the US administration seems equivocal on IP, I am glad the UK Government is taking a leading stance in this important debate.
Research Ventures Catalyst
The UK Government's Research Ventures Catalyst is now open for applications after the timetable for application was published last week. The aim of this pilot programme is to stimulate the creation of novel research ventures, via entrepreneurial team-based approaches in collaboration with partners drawn from the public sector, industry and the third sector. The Department for Science, Innovation and Technology (DSIT) is initially inviting bids for up to £100,000 of 'seed corn' funding, which is available to support successful applicants in developing full plans for their new research ventures. Only applicants that are successful in receiving seed corn funding will be invited to submit full plans, which will then be assessed and DSIT may ultimately provide up to £25 million of government funding per successful application. Proposals will also need to attract co-investment from partners in industry, philanthropic organisations or other third-sector bodies. If you have a quiet August lunchtime then you may wish to join the applicant Q&A session on 14 August at 1-2pm. The plan is to make recordings of these sessions available on gov.uk for those that cannot attend.
Pensions work continues
Work to continue to encourage UK pension money into productive growth areas of the UK economy continues and I was struck by this interview in the FT last week with Nausicaa Delfas, the newly appointed chief executive of The Pensions Regulator. She was clear that UK pension schemes that have the scale and expertise are able to invest in a diverse range of assets," and she saw that "productive finance", such as illiquid investments, start-ups and growth assets, had a part to play in a diversified portfolio.
AstraZeneca genomic medicine move
Interesting to see AstraZeneca doubling down on genomic medicine with the purchase and licence agreement for a portfolio of preclinical gene therapy programmes and enabling technologies from Pfizer. The agreement that could be worth up to $1 billion is a clear marker of Alexion and AstraZeneca's ambition to be an industry leader in genomic medicine, an area where we in the UK have a sustainable competitive advantage due to decades of investment in organisations like Sanger Institute and Cell and Gene Therapy Catapult and the fantastic community of experts in our ecosystem as a result. A strong UK-based leader doubling down in an area of UK strength has the potential to be a win-win for our ecosystem.
North East cheer
I'm delighted to join Newcastle-based life sciences and biomedical businesses, LightOx, NunaBio, Magnitude Biosciences and Hexis Lab coming together to celebrate securing several grant awards amounting to over £2.5 million from Innovate UK's latest round of R&D grants.
The funding will be used to advance the pharmaceutical and biotechnology research services, technology and drug development of these stand-out companies. From cancer prevention, the development of new DNA-based drug products, testing regimes and tailored treatments, the group are collectively transforming the delivery of healthcare and the development of new health technologies.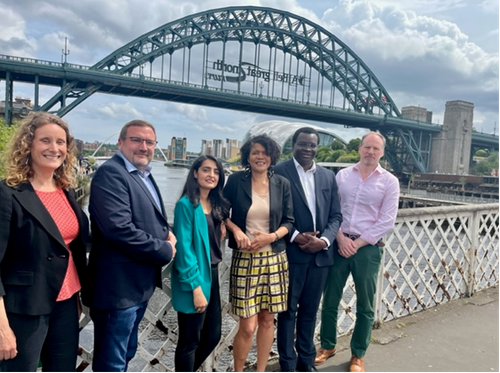 The group has been supported not only through available funding but by key advocates including Labour's Shadow Science MP Chi Onwurah, who has been lending her voice as shadow science minister to the sector in Westminster and beyond.
..and finally, why Kilmarnock have become my Scottish football team of choice this season
Yes, Kilmarnock Football Club 2023/24 away kit design has been inspired by the world-changing discovery of penicillin, which was made by renowned scientist Sir Alexander Fleming who studied in the town. In a nod to one of two Nobel Prize winners educated at Kilmarnock Academy, the design of the away jersey carries the visual DNA of penicillin, discovered by Fleming in 1928. Fused onto the new crimson red kit, a cyber blue pattern illuminates the chemical construct of the world's first antibiotic. The kit has been designed with the aim of inspiring youngsters across the region to embrace innovation, by serving as a reminder that their contribution can have a lasting impact on society and I've already ordered one for my own Friday football kickabouts this season. It's great to see football fashion and science come together supporting innovation.
Enjoy the World Cup and your week.
Steve
Steve Bates OBE
CEO, BioIndustry Association
More news and updates
More within