Driving positive changes to pre-emption rights: UK Life Science Secondary Capital Raising
BIA has secured a change in pre-emption rights to allow for easier fundraising, but what are they?
An independent review of secondary capital raising in the UK has published recommendations that, if enacted, should make it much easier, quicker and cheaper for life science companies to raise capital on the public markets. The change is the direct result of the BIA's input to the review on a pretty niche area of British company law called pre-emption rights, which cause a real headache for our members. It's a great result to secure a change but it needs some unpacking, so I thought I'd write a blog about it. Bear with me…
What are pre-emption rights?
A pre-emption right is a 'right of first refusal' for an existing shareholder. When a company issues new shares in return for cash as part of a fundraise, a shareholder with a pre-emption right is entitled to buy those shares in proportion to their existing shareholding in the company. The shares can only be offered to other investors if the existing shareholder declines this opportunity.
Shareholders in companies incorporated in England and Wales have pre-emption rights as a result of provisions in the Companies Act 2006. Companies listed on the premium segment of the London Stock Exchange (which, to be fair, doesn't include very many biotech companies) are also required to provide a form of pre-emption rights.
Companies can ask their shareholders at an Annual General Meeting (AGM) to waive their pre-emption rights for a given period – usually a year – and up to a certain threshold of issued share capital, usually 10%. This threshold can be anything, but a semi-formal group called the Pre-Emption Group (PEG) publishes guidance, which tends to be religiously followed by shareholders.
So what's the problem?
These pre-emption rights cause problems for our members and other capital-hungry companies because going to each and every shareholder ahead of a fundraise is slow and expensive, and prevents companies from seizing the moment of positive market conditions to raise fresh capital. We recognize that pre-emption rights are designed to protect shareholders from being diluted, but the high-growth nature of our sector means companies must raise much larger sums of capital and more regularly than market rules are historically designed to enable.
Equally, convincing shareholders to waive their pre-emption rights at an AGM is also time-consuming as companies have to lay the groundwork to get the votes. Many investors just follow standard guidelines so don't agree to anything more than the PEG or shareholder advisory firms like Institutional Shareholder Services (ISS) recommend (generally not above 10%).
These problems are exacerbated by the lack of pre-emption rules in America, meaning US investors are not familiar with them and are reluctant to agree to AGM motions they don't understand. US companies also do not have to provide pre-emption rights, so are not hamstrung by them like their UK competitors are, putting UK companies at a disadvantage. Even UK companies listed on NASDAQ must offer pre-emption rights if they are incorporated in England or Wales.
The BIA set out these problems in our submission to the independent review last year and called for greater flexibility. The team leading the review subsequently followed up with us to request more information and data, which we were able to provide.
What will change?
The review's findings echo the concerns we raised and reproduced the supporting data we provided via BioWorld showing the problem faced by biotech companies in particular.
The review recommends that new guidance from the PEG make specific provision for growth companies to seek waived pre-emption rights for a higher threshold of shares; it recommends 75%.
The review also acknowledges that although it's standard in the UK market for AGM resolutions to waive pre-emption rights for just one year, it may be appropriate for a company with a consistent long-term growth strategy to seek a longer period in certain circumstances.
Conclusion
Both of these changes in approach from the PEG could make it substantially easier for growing companies in the life sciences and other sectors to raise the capital they need. They should find it easier to convince shareholders to allow larger fundraises without pre-emption rights and potentially get those permissions for longer periods. The Chancellor welcomed the recommendations in his Mansion House Speech on 19 July and said they should be implemented in full, but the PEG is independent so we will need them to follow suit, as will advisers like ISS. The BIA will keep the pressure on for them to do so.
The BIA has a long history of campaigning on niche issues that can make a big difference to the sector and has fought, unsuccessfully, in the past to change pre-emption rights. When we saw this opportunity, we jumped on it and with the support of our members, and partners BioWorld and Radnor Capital Partners, we were able to successfully argue for a change. In this review – which looked at many other issues beyond pre-emption – only 36 organisations inputted and we were the only industry-specific trade body, so it is fantastic to have had such an impact on behalf of members.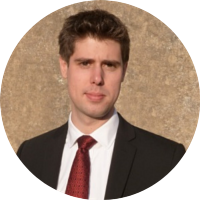 Dr Martin Turner
Head of Policy and Public Affairs
BioIndustry Association (BIA)
More within