Europe's HCP access is back but not as we knew it. Will your field team benefit?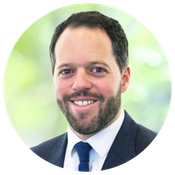 Our latest guest blog features Aaron Bean, VP, European Business Consulting Lead at Veeva, a global leader in cloud software for the life sciences industry. Last November, Veeva published 'Pulse Field Trends Report' with industry insights to help field teams align their strategy to key market trends.
The European results from the report show that healthcare professionals' accessibility is high (52%) but they are becoming more selective about which biopharma companies they meet. Read this blog to learn what the #veevapulse data means for European field teams and engagement planning.
---
It is often assumed that rep access to healthcare professionals (HCPs) is still muted compared to the pre-pandemic era. Analysis of 600 million annual HCP-rep interactions globally proves this is not the case. HCP access is back, but interactions are becoming more selective and increasingly virtual.
Field access to HCPs has also returned at a high rate in Europe, but not all companies benefit equally. HCPs across the region are meeting fewer biopharma companies, dialling up the expectation that their interactions are as productive as possible. With significant variation in field effectiveness among companies, teams must evaluate whether their targeting strategy and channel mix are achieving the right reach.
For the first time, we're able to measure the level of access attained by companies with different field force sizes by specialty, channel, and country in the Veeva Pulse Field Trends Report.
If you want to learn more, watch this video on the most important European findings from the Veeva Pulse Field Trends Report.
1. European field access returns
Globally, HCP access has climbed from the pandemic-era low of 20% to 60% this quarter. A similar trend is discernible in Europe, where HCP accessibility across specialities averages 52% (Dermatology, Oncology, and Cardiovascular have more than 60% access).
Video is being used to extend reach and virtual engagements are now mainstream across the region. Almost one-third of accessible HCPs choose to connect with reps using video.
However, access is not the same for everyone, as HCPs have become more selective about which biopharma companies they meet. On average, 65% of accessible HCPs in Europe limit meetings to three or fewer organizations. Access is most restricted in the UK where 94% of accessible HCPs meet only one or two companies.
Figure 1: HCP Access by Specialty and Channel (EU-5)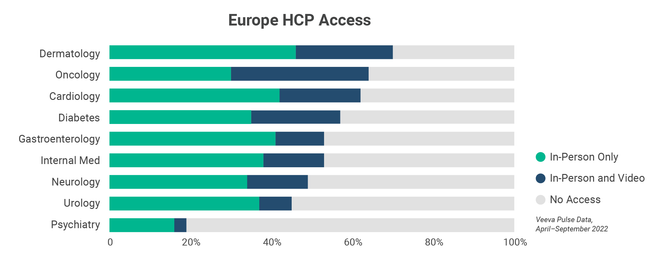 Despite this, some companies with small field forces have achieved the same level of access as competitors with much larger field teams through digital engagement.

2. Content use accelerates in Europe
Over the last quarter, content use has accelerated faster in Europe than elsewhere, with higher growth coming from video calls (10%) than in-person meetings (7% growth).
Content has an impact on the quality and duration of video calls. Reps that use closed loop marketing1 (CLM) are best placed to tailor their field calls by presenting the latest content and documenting customer feedback to messaging. Companies know this and are investing in their content capabilities to improve the overall HCP experience.
The industry is making strides to embrace content-rich video calls as a way to engage customers efficiently. However, behavioural change takes time, which is why there is still plenty of room to grow video in the overall channel mix
Figure 2: Content Usage by Channel, Europe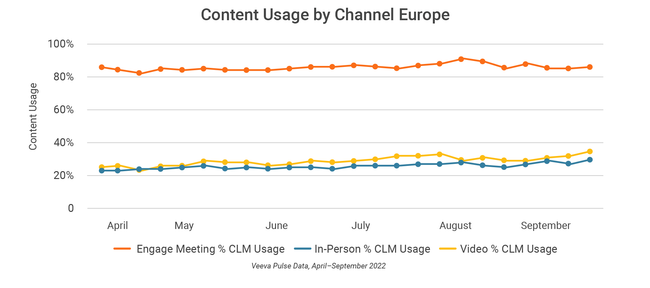 3. Granular country data vital
There is no one-size-fits-all model for Europe. Engagement and access vary by country and specialty, company, and channel.
For instance, reps in France and the UK record near-identical weekly channel activity of 22 and 21 engagements respectively. Yet, reps in France are more than twice as likely to rely on in-person meetings than their counterparts in the UK. Regulatory differences and cultural factors have resulted in diverse channel mixes.
In the UK, pharma company reps are restricted to a maximum of three solicited meetings with the same rep each year (although there are no limits on meetings if an HCP reaches out to a rep). In France, regulation of in-person access is happening at a slower pace. Field teams in the UK have plugged this gap with a heavier reliance on email and video. UK video usage is higher than elsewhere in Europe, averaging three weekly meetings per user.
Figure 3: Field Activity by Channel, Europe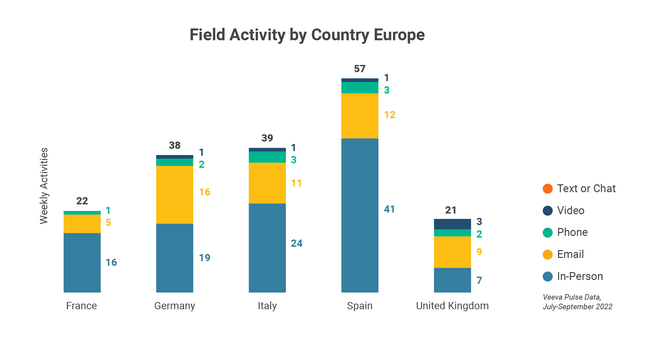 Spain's model looks different again, with a heavy emphasis on the volume of activity. At a recent Veeva roundtable for pharma companies, attendees noted that although omnichannel is perceived to be low in Spain, reps in this country take a high-volume approach to multiple channels.

Benchmark to become more effective
The European findings show that the winners securing time in HCPs' diaries use digital more effectively to broaden their reach. They attain an optimal channel mix between video and in-person activity and ensure meetings are content-rich so key messages land effectively. The powerful combination of digital and content has helped some overcome the hurdle of a smaller field force size to attain similar reach to competitors equipped with many more reps on the ground.
Benchmarking your company's performance to peers in each country is important. Only then you will be able to define, at a granular level, the capabilities and KPIs needed for each market.
If you would like to learn more please contact Hannah Andrews.
1Closed-loop marketing is a form of marketing that relies on data and insights. "Closing the loop" means that field teams provide detailed feedback to marketing about what happened to the leads they received.
---
More like this
More within