Expanding MicrofluidX through Future Leaders Fellowships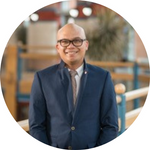 Meet Cesare M. Cejas, co-founder and Vice-President - Microfluidics for MicrofluidX. Cesare holds a PhD in Materials Physics and Chemistry from the Sorbonne (2013). His academic career as a researcher in Paris focused on microscale fluid dynamics, soft matter, polymers, microfluidics and microfabrication. Together with his co-founder, he set up a start-up in London to leverage microfluidics-based applications for cell and gene therapy applications, particularly autologous cell therapy.
Read this Q&A blog about his experience of Future Leaders Fellowships (FLF) Round 5, which is a personal award offered by UK Research and Innovation (UKRI) to support fellows to develop as impactful and influential research or innovation leaders.
---
Q: How did you find out about FLF?
One of the speakers mentioned FLF, when I was part of the [email protected] programme.
Q: What made you apply for FLF and how has it helped your career?
I applied for FLF in June 2020 (Round 5) and was officially granted the award in September 2021. FLF has helped me hire more people for the project, expand the group by hiring more engineers, scientists and technicians that contribute to technology development as well as advance R&D, prototyping and validation. FLF has also helped increase visibility, leading us to acquire more external client partners to independently validate and benchmark our technology. This visibility has also contributed to raising funds for my company.
My FLF project is on miniaturisation of high-throughput bioreactors for advanced therapeutics. The small-scale environment offered in microfluidics enables precise control of parameters (reagents, gas diffusion, etc) used for optimal cell culture. Current state-of-the-art of bioreactors for autologous cell therapy use larger volumes that result in high process variability, are often connected with high level of manual, open manipulation steps that are exposed to high failure risks, and are definitely costly making them inaccessible. Miniaturisation enables creation of highly multiplexed - and closed - bioreactor systems able to perform multiple tasks that drastically increases throughput. This enables scale-up from process development to manufacturing even more effective.
Q: What have the benefits been (both for you and the company)?
The FLF programme benefitted me in three ways. Firstly I was able to expand the company by employing more specialists. It has also helped raise the profile of Microfluidx and our visibility, which in turn led to gaining more clients, and partners, as well as supported our fundraising activities. Lastly, the FLF award has accelerated our R&D as well as prototyping.
What advice would you give to someone considering applying and some of the pitfalls to look out for?
As a business FLF, the programme opens up a network and helps accelerate technology to market. Any business FLF project needs to be fully integrated into the company business plan, so that commitment to both the project and the company are optimised.
Would you encourage others to do the same and what support did you need?
Yes, I would encourage others to apply. I had support from the host organisation (company) and this is important for a business FLF to be successful. There was a candidate for Round 6 who reached out to me and I have personally provided some informal mentoring. I am very glad that he was successfully accepted for Round 6 of FLF. I think if this sort of thing could be more formalised, it would provide more confidence for other applicants to apply because they will directly relate to the experiences of the other fellows.
---
To learn more about Future Leaders Fellowships Round 7, visit this page. Future Leaders Fellowships (FLF) support businesses to develop their most talented early career researchers and innovators or to attract new people to their organisations, including from overseas. The aim of the scheme is to develop the next wave of world-class research and innovation leaders in academia and business. It is also open to international applicants looking to take up a role at a UK-based organisation. Applications close on 6 December 2022
More within