Guest blog: Fiona Li reflects on 22nd Annual Parliament Day
What was your favourite part of this year's Parliament Day?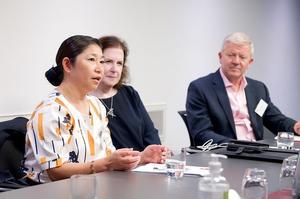 We had an opportunity to hear the two major parties' respective views on the S&T sector, which were encouraging and broadly aligned with BIA's vision for the UK life science sector. The event helped to enhance the communication between BIA members and government.
What key messages did you bring to your meetings with parliamentarians and senior civil servants?
During the constructive meetings with Labour MP Chi Onwurah and NHS Director Claire Foreman, we addressed the importance of government support in encouraging private investment in the domestic industry, by creating a supportive, well-funded ecosystem. We also discussed setting up government funding schemes for scaling-up stage entities so as to bridge the gap between private investors and public markets, which will benefit growth of the knowledge-based UK economy. We also discussed how to enhance collaborations between industry, particularly SMEs, and the NHS to access data and support systems such as ILAP, to accelerate the development of innovative medicines.
What is your involvement with the BIA's policy work? Are you on any of our advisory committees? What impact have you seen so far from this?
Our company is a new member of BIA. I personally have not been involved much in BIA's policy work, and this Parliament Day was my first experience of this event. I would be interested in joining the science and innovation committee at some point.
What excites you most about the UK life science sector?
The UK life science sector has particularly close links with capital markets, although only a few local life science companies have gone public in the UK in recent years: I am hopeful this trend will reverse. Secondly, the NHS system provides a major potential advantage for innovative medicines to be developed along an efficient path and reach patients early. Finally, the early adoption of digital health within both industry and NHS offers a strong potential for new diagnostic and therapeutic paradigms to emerge.
More within