Harnessing the economic potential of UK life sciences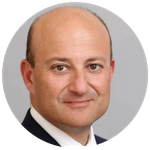 This week, the British Business Bank was pleased to announce that our commercial subsidiary British Patient Capital made its first investment from the Life Sciences Investment Programme into the SV Biotech Crossover Opportunities Fund (SV BCOF). Read this blog by Louis Taylor, CEO, British Business Bank to learn more!
---
British Business Bank is the UK government's economic development bank supporting access to finance for smaller businesses. British Patient Capital manages more than £3 billion of assets to enable long-term investment in innovative UK companies, including those in the life sciences sector.
We know how important life sciences companies, like those the BIA represents, are for the UK's economic growth and global competitiveness.
Underpinned by a world-leading academic foundation, and galvanised by an upsurge of interest following the Covid-19 pandemic, life sciences research is one of the UK's greatest assets. However, funding must be available not only for research to be carried out but for that research to be successfully commercialised and scaled up.
There is a clear lack of later-stage funds investing consistently at scale into the life sciences sector, which means some of our most promising businesses are either acquired early or forced to move elsewhere – Bank research has shown that UK R&D-intensive companies are more likely to be acquired by overseas companies than overall UK equity-backed companies. This gap must be addressed if we are to reap the full economic benefits on offer and support the UK's position as a science superpower.
That is why life sciences continues to be a core area of investment activity for the British Business Bank. Through our various programmes, over 300 life sciences firms have received around £1 billion of investment, including:
At the early stage, through the Bank's Enterprise Capital Funds programme – which supports fund managers specifically targeting early-stage small businesses – 35 life sciences small businesses have been supported with over £80 million of investment from the Bank.

At the later stage, life sciences has long been a core investment area for British Patient Capital, whose portfolio of VC funds includes commitments of over £150 million into five specialist life sciences funds.
The Bank is largely a sector-agnostic investor, recognising that all sectors – from the next tech unicorn to the high street hospitality business – must be supported if we are to ensure that economic growth is felt by everyone. Even so, the strategic importance of life sciences businesses is so evident that the Bank has developed two targeted programmes, delivered by British Patient Capital, to specifically support their growth:
Future Fund: Breakthrough, launched in July 2021, is a £375 million programme, through which BPC makes later-stage co-investments into innovative, R&D-intensive UK companies in life sciences and deeptech. Through this programme, British Patient Capital has directly invested £47.5m into six life science companies, alongside £277.5m from private investors and is now the UK's most active investor in later-stage life science and deeptech firms. These companies include Nucleome Therapeutics, Epsilogen, Iceotope, PragmatIC Semiconductors, and Microbiotica.

The Life Sciences Investment Programme (LSIP), also launched in July 2021, is a £200 million initiative through which British Patient Capital makes cornerstone commitments to life sciences venture growth funds with a strong UK focus. It expects to attract at least a further £400 million of private investment. This programme is supported by a collaboration agreement with Abu Dhabi's Mubadala Investment Company, which provides an additional channel for fund investments under Mubadala's £800 million commitment to invest in UK life sciences as part of the UAE-UK Sovereign Investment Partnership (SIP), established in March 2021 by the UK government and Mubadala.
We are delighted that this week we have announced the first investment from LSIP. Managed by SV Health Investors, SV BCOF is targeting growth-stage, biotechnology companies developing transformative therapies, with investments so far including BIA members Bicycle Therapeutics and Quell Therapeutics.
Our work with partners like the BIA and the life sciences companies it represents is so important to the Bank, helping us understand the sector's evolving needs, barriers, and opportunities. We look forward to building on this partnership in our shared pursuit of innovation-driven economic growth, as the Bank continues to strengthen and deepen its commitment to life sciences and backing innovation in the UK.
---
To learn more about the Bank's activities in life sciences, please contact [email protected]
More within