Inspiring the next generation of female leaders: Claire Thompson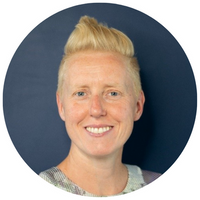 In light of International Day of Women and Girls in Science (held annually on 11 February) we spoke to Claire Thompson, CEO of Agility Life Sciences, about her career journey. From former international football player to founder of an award-winning life science company, Claire's passion for providing opportunities for women and girls to excel in whatever they do is clear. She was also recently elected to sit on the BIA Board, adding yet another notch to her belt and inspiring the next generation of women and girls in science.
---
Tell us a little about yourself
I'm Claire Thompson, CEO of Agility Life Sciences. We are an award-winning formulation development CDMO. We work with small and medium sized biotechs to turn their badly behaved molecules into products that give them the best chance of success in preclinical studies, and can then be accelerated on to clinic. I'm originally from Northern Ireland, moved to St Andrews in Scotland to study Biochemistry, then to Nottingham for my PhD and have spent the last 20 years in the Pharma industry working for large corporates, CDMOs, virtual biotech and then setting up my own businesses. I'm also Entrepreneur in Residence at the University of Cambridge, Chair of the International Pharmaceutical Federation's Women in Science and Education (FIP WiSE) initiative, and am on the Advisory Board for Lift As You Climb.
I have an Honorary Professorship from the School of Pharmacy at the University of Nottingham.
A former footballer, I launched and fully fund the Girls In Football Teams (GIFT) Grants, which support >30 girls' and women's teams across the UK.
When did your passion for STEM begin and what drew you to this vocation?
I've always been inquisitive, wanted to know how things worked, so was drawn to science from an early age.
Please share a positive experience you had, perhaps with a mentor or taking part in a programme, which propelled your career and gave you more visibility.
I have worked with some wonderful people throughout my career. I'm a firm believer that people work with people, regardless of the industry you are in. When I have found like-minded, supportive people, I have kept them close to me as part of my Tribe. They are my mentors, sounding boards, friends and I have even brought some of them into my team as I have grown my business. It is these people who helped to propel my career, by talking about me favourably when I wasn't there, spotted opportunities and encouraged me to be brave and take them.
What advice and encouragement can you offer to others wanting to enter a career in STEM?
Go for it! A career in STEM can take you anywhere in the world. You can work in large companies, virtual companies, you can even start your own!
If you could invite any scientist or entrepreneur to dinner, who would it be and why?
It would have to be Prof. Dame Sarah Gilbert who developed the first covid vaccine. The initiative she and her team took at the very outset of the pandemic to develop a vaccine rapidly was incredible! I can't recommend her book Vaxxers enough. It made me emotional on more than one occasion, and showed how scientists changed the world and saved millions of lives.
---
More like this
More within