Meet the Psychiatry Consortium: Driving advances in drug discovery for mental health conditions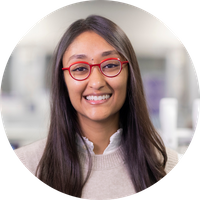 Dr Ekta Patel is Psychiatry Consortium Partnership Manager at Medicines Discovery Catapult. Ekta is a translational scientist with over 8 years of drug discovery research experience in both academic and industrial roles.
Combining her scientific knowledge and experience of working across SMEs, academic research groups and pharmaceutical companies, Ekta provides in-depth support to Psychiatry Consortium collaborators to develop and deliver the portfolio of projects. Read her blog about driving advances in our knowledge of disease biology for mental health conditions.
---
Understanding The Unmet Need
The scale and impact of mental illness across society is immense. In 2019, one in every eight people, or 970 million people worldwide, were living with a mental illness – with anxiety and depressive disorders the most common.1 In 2020, the number of people living with anxiety and depressive disorders rose significantly because of the COVID-19 pandemic. Initial estimates show a 26% and 28% increase, respectively, for anxiety and major depressive disorders in just one year.2 In addition, mental health research is drastically underfunded, both in terms of the burden of mental illness and in comparison to physical health conditions – just £9 per year is spent on mental health research for each person affected by mental illness in the UK.3
Whilst we have treatments for some mental health conditions, they don't work for everyone, and side effects can be difficult to tolerate. Drug discovery in this field has stayed relatively stagnant compared to other therapeutic areas, with no new types of medicines coming forward in the last ~30 years. We need to explore new biology to unlock new potential treatment targets and broaden the treatment options available for people with mental health conditions.
Project Portfolio
The Psychiatry Consortium is bringing the academic research community together with industry leaders to drive advances in our knowledge of disease biology. When we don't fully understand how different brain circuits are affected in mental health conditions, it's difficult to know how to modulate them for therapeutic gain. Psychiatry Consortium projects aim to build a deep understanding of a disease or condition and its causative molecular mechanisms in order to identify and validate novel therapeutic targets.
The Psychiatry Consortium has funded a range of projects so far, and we are actively looking to build this portfolio:
Project 1: Investigating KALRN as a novel target for the treatment of schizophrenia
Project 2: Investigating NEGR1 as a novel target for the treatment of depression
Project 3: Investigating GALR3 as a novel target for the treatment of post-partum depression
Call For Project Proposals
The Psychiatry Consortium is currently accepting applications for project proposals until 5 December 2022. We are looking to fund projects which focus on the validation of novel molecular drug targets for mental health conditions, including mood disorders, psychosis, cognitive disorders and psychiatric symptoms of dementia.
At the initial application stage, we ask for a high-level summary of the proposed target and the biological link between the target and disease. Proposals demonstrating evidence of the link between a novel target and neural circuit, pathway, or disease mechanism, and with converging lines of evidence supporting that link, stand the best chance of success. If your proposal is accepted, we will invite you to meet our industry partners to co-create a project that builds on the available evidence and further validates your proposed target.
Support For Applicants
Our recently published 'Guiding Principles for Robust Target Validation in Psychiatry' document highlights key considerations deemed important by the drug discovery community when building a target validation package for novel therapeutic targets. We hope the guidance will support applicants in building projects that address gaps in our knowledge and strengthen the body of evidence to support a target's role in a particular disease or condition and its potential as a therapeutic target.
You can find more information and access other helpful resources at psychiatryconsortium.org.
---
About the Psychiatry Consortium
The Psychiatry Consortium, launched in 2019, is a strategic collaboration of two leading medical research charities and eight pharmaceutical companies focusing on the challenge of identifying and validating novel drug targets to address the unmet therapeutic needs of people living with mental health conditions. The Psychiatry Consortium Partners act as a syndicate – collectively sharing the funding of, and therefore the risk associated with, drug discovery. The Psychiatry Consortium is managed by Medicines Discovery Catapult and supported by Wellcome.
More within