Member Spotlight: Interview with ABclonal
We spoke with ABclonal, a dynamic and growing provider of biology research reagents and services.
Q: Tell us about your company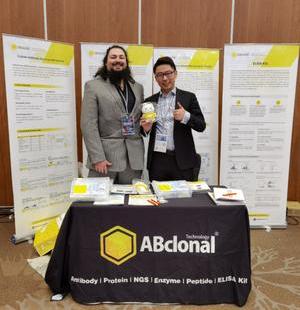 ABclonal was established in 2011. We provide antibodies, recombinant proteins, molecular enzymes, NGS preparation kits, laboratory consumables and antibody development services for scientific researchers, IVD companies and biopharmaceutical companies. We currently have R&D and manufacturing facilities in the US and China, providing technology research and development platforms for immunity and molecular biological enzymes. And we pride ourselves on making everything we offer fully customizable and supply around-the-clock support from our experts within the field who are at hand to help with the design and planning of your experimental needs. We are committed to providing a full range of reliable technology solutions for global life science researchers at a reasonable price.
Q. What is ABclonal's greatest achievement so far?
After ten years of development, in terms of products, we have expanded from the field of scientific research reagents to IVD diagnostic raw materials and thus have mastered the development platform of IVD. We are using this technology platform to provide services from academia to industry. We have succeeded in turning promising academic achievements into real in vitro diagnostic technologies and raw materials, which helps provide better services for not only scientific researchers but also clinical patients and doctors.
Q. What have been your biggest challenges?
Each of the product and service areas we are currently involved in has some excellent competitors. And what we want to prove is that we have unique advantages in each product area. Therefore, in the face of this competitive pressure, we choose to keep up with the latest academic achievements and try to convert them into good products. For instance, the nucleic acid-conjugated antibody that we just launched and the monoclonal antibody development technology based on single B cell sorting technology are all at the cutting-edge in recent years.
Q. What's ABclonal's ambition?
To become a comprehensive biotechnology enterprise of reagents and diagnostic raw materials, instruments and equipment, antibody discovery and development.
Q. Why did you join the BIA?
Although ABclonal has rich business experience in America and Asia, as a new player in UK, We have very little communication with local academia or industry.
We hope that by joining the BIA, we will not only show us more fully to friends in the UK, but also hope to use this platform to fully understand the progress and trends of local life sciences in the UK, establish communication with you, and establish the localization of the team to better serve the UK market.
Q.What excites you about the UK life sciences sector?
As one of the most developed regions in the life science field in the world, the scientists here are active in thinking and fruitful. Cooperation with this group of outstanding scientists will allow us to continuously upgrade our products and services, and enhance our competitiveness in global channels. In addition, collaboration with these excellent clients will also provide ABclonal with a steady stream of inspiration and possibilities and give us assistance for future development.
Q. If you could invite any scientist or entrepreneur to dinner, who would it be and why?
We do not discriminate and would like to discuss life science developments and projects with local FRS (Fellowship of the Royal Society), Research scientists in academia or industry, PIs(Principal Investigators) and Pharma/IVD company leaders.