Member Spotlight: Interview with Amir Afshar, Co-Founder & Chief Product Officer of Shellworks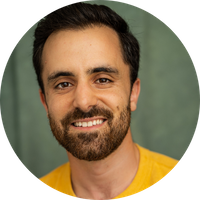 In light of Zero Waste Week (5-9 September), we spoke to Amir Afshar, Co-Founder & Chief Product Officer of Shellworks about what businesses and individuals can do to become more environmentally sustainable. He believes that true sustainability doesn't mean compromise and can be functional and cost-effective.
---
Q: Tell us about Shellworks and what issue you're tackling
Shellworks seeks to break the reliance on the petroleum industry by building a new standard of performant packaging that is cost-competitive and truly sustainable. By leveraging naturally occurring polyesters grown by bacteria, Shellworks is developing workable and scalable solutions that can biodegrade in any natural environment without the need for special conditions.
Q: What is Shellwork's greatest achievement this far?
With start-up life in the biotech industry, it is often hard to remember to take time to step back and celebrate the wins. At Shellworks, we are trying to pay due attention to the small incremental steps, getting us to our end goals. That said, there are a few key achievements that stand out! Namely, we have already shipped over 120,000 products to pioneering brands, including Haeckels, Sana Jardin, Bybi and Liha Beauty, with even more production orders in the pipeline showing considerable market demand. It is exciting to have the validation, support of customers, and positive feedback from end consumers and to see our products out in the wild, starting to create the real-life impact in the fight against plastic waste we are looking for.
Q: What have been Shellwork's biggest challenges?
With the issues we are trying to tackle, it often comes down to challenges around communication. Over the last decade, there has been considerable greenwashing around sustainability, particularly alternative materials. We are trying to build trust and ensure transparency in everything we do so that our products can have the most significant impact possible. This means we focus a lot of effort on how we can communicate about our product. We work hard to ensure we provide clear written and visual assets to help all our stakeholders, customers and end users understand what our materials are, what they are not, how it is made and especially how they break down at their end of life. For us, clear communication is about educating and empowering all stakeholders to help drive impact.
Q: What is Shellwork's ambition?
We have put considerable thought into this as it is our driving force. Our ambition is to set a new standard for what sustainable packaging can be.
We want to show the world that true sustainability doesn't have to mean compromise. It can be beautiful, functional and cost-effective. We feel this is the only viable route to mass adoption and real impact.
Q: What can businesses or individuals do to become more environmentally sustainable?
I think this comes down to educating ourselves and fostering a curious, questioning nature. Digging beyond the surface of a topic and considering where information might come from and how that could impact the perspective of the information will help us all to become more aware of the impacts our decisions have and consequently make more informed sustainable decisions. Unfortunately, in many cases, there isn't a 'perfect' solution and being aware of why one is making a particular choice given the available data or where you have to make a compromise is a good starting point. In these cases, I check in regularly to see if there is room for improvement or new readily available information. Staying up to date and engaged on these issues is vital. Ultimately, where and how you spend your money gives an end consumer more power than you realise. Demand drives market growth and creation. Purchasing power and making considered decisions will force companies to move in a more sustainable direction. Most importantly, I think it is important not to get too overwhelmed and understand that any small step in the right direction has an impact. We are never too small to help make change; in small individual efforts, we can drive wider collective action.
Q: If you could invite any scientist or entrepreneur to dinner, who would it be and why?
As an entrepreneur, there are a few that spring to mind as people I would love to sit down and talk with, Steve Jobs and Elon Musk, for example, but for a dinner guest, I find hearing the stories of those a little less well-known more interesting. With that in mind, if she were still with us, I would have loved to have Stephanie Kwolek, the chemist who invented Kevlar, over for dinner. I have always been fascinated by her journey. This breakthrough fiber has been integral to so many performance materials today. As the story goes, she created it when Du Pont's scientists were struggling to make a stronger synthetic fiber, and she proposed a new methodology involving a liquid crystal solution that could be cold spun. That would be an incredible breakthrough in its own right, but Kwolek's journey to get there is even more admirable. She challenged conventional notions of what had previously been done. She ultimately came up with a revolutionary solution in the field still used today—pressing through with creative solutions where others would have conventionally stopped believing them as mistakes or insurmountable challenges. It would be great to dive into her thought process and what drove her decision-making. How did she know or what was the driving force behind her decision to keep going and moving forward despite considerable pushback from others? I think she would be an incredibly insightful and fascinating dinner guest who would also help push us along on the Shellworks journey.
More within