Member Spotlight: Interview with Moderna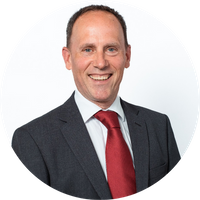 Following the announcement about the BioIndustry Association (BIA) reaching a new milestone of 500 member companies earlier this week, we spoke with Darius Hughes, UK General Manager at Moderna to learn more about the mRNA global player and his intentions behind joining the trade association's membership.
---
Q: Tell us about Moderna and your vision for the UK
We are bringing mRNA innovation to the UK - cementing the UK's status as a world-class hub for science and technology. Moreover, we are committed to partnering to address public health risks through collaborative research and development. Finally, I also want to ensure Moderna is a great place to work.
Q: What do you consider Moderna's greatest achievement thus far?
There have been a number of pivotal moments. Spikevax, Moderna's first commercial product, was approved or authorised for use in more than 70 countries worldwide (within a year we obtained clinical trials and marketing authorization in the UK) and the UK was the first in the world to receive authorisation for our bivalent booster targeting Omicron. On a personal note, setting up the UK team and organisation has been a privilege and a source of much satisfaction.
Q: What have been Moderna's biggest challenges?
Growth and globalisation of the business, keeping up with demand and realising the potential for mRNA have been ongoing challenges as well as opportunities. The vaccines space is fast-moving, highly intensive and involves extremely tight timelines, which has been enormously challenging during the pandemic. This combined with the growth of our business has been demanding, but seeing the potential of mRNA being realised is fantastic and hugely motivating. I am proud to be a part of such a brilliant company and exciting industry.
Q: What is Moderna's ambition?
Our mission is to deliver on the promise of mRNA science to create a new generation of transformative vaccines and medicines for patients. Moderna's mRNA pipeline is tremendously exciting focusing initially on serious respiratory diseases, which cause an enormous burden and cost of disease and then exploring mRNA in fighting rare diseases, cancer and heart disease. From a UK perspective, we are excited about bringing innovation to the UK and creating a world-class hub for science and technology.
Q: Why did you join BIA?
We are honoured to be joining BIA as its 500th member. This important network of leading technology companies in the life sciences space will help us to realise our ambitions here in the UK and share ideas and best practice across the life sciences space. BIA shares a very similar vision and mission to Moderna and an unequivocal commitment to patient and population health harnessing the power of science and innovation to deliver transformative solutions for modern healthcare.
Q: What excites you about the UK life sciences sector?
The UK is a world leader in this space and we're thrilled to be part of it, but we know a lot of work and policy development is needed to ensure the UK retains that leadership and supports the ambition to realise the full UK life science potential. We are committed to contributing to that endeavour through the power of mRNA science and technology. We are also excited about bringing science and technology directly to the UK and working with UK Government to deliver this imperative.
Q: If you could invite any scientist or entrepreneur to dinner, who would it be and why?
Louis Pasteur. A hero, pioneer and leader who pushed science and technology to fulfil the mission of discovery and a role model in terms of obsessing with learning and taking risks to bring innovation to the masses. In my opinion, this is quite similar to Moderna's mRNA platform and the promise of delivering a new generation of transformative medicines for patients.