Member spotlight: meet Abzena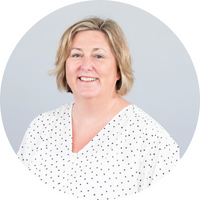 Nicole Wakes is currently the Senior Director of Cell Line Development at Abzena, a role that sees her deeply involved in the complexities of cell biology and bioproduction. In this blog, we delve into the world of Abzena through the lens of Nicole Wakes, exploring her journey, the company's ambitions, and her perspectives on the burgeoning UK life sciences sector.
---
Tell us about your company and ambitions?
Abzena has a focus on bioconjugates and biologics. We aim to push the development of novel treatments forward at every stage, from discovery through to commercial launch. We tailor our strategy and customer experience to each project, developing and implementing innovative solutions. This enables biotech and biopharma companies to realize the full potential of their investment in human health.
We operate globally with facilities in San Diego, California; Bristol, Pennsylvania; and Cambridge, UK. In my department, we focus on the early stages of our customer projects, working with a variety of clients, from academics to large pharma, to ensure the safety and feasibility of the products.
What is your company's biggest achievement so far?
Our most notable accomplishment lies in our ability to establish significant partnerships with leaders in the biotech and biopharma companies. Our collaborations have enabled us to be at the crux of groundbreaking science, where we play an instrumental role in transforming novel concepts into tangible treatments. The transition from a scientific concept to a clinical application is complex and challenging. Abzena, over its years of operation, has adeptly bridged this gap for many projects. The eventual aim of this is to bring forth therapeutics that have the potential not only to treat but also to save lives.
What are some of the priorities that you're currently working on?
Abzena is in an exciting phase of its growth trajectory, with expansion not only in terms of size but also in its capabilities. One of the primary focal points for us is the fusion of growth with efficiency. As we widen our footprint in the CDMO space, it becomes imperative to maintain and even enhance our operational effectiveness. This means that while we are scaling up to accommodate more projects and innovations, we are simultaneously implementing strategies to streamline our processes. By doing so, we aim to ensure that our delivery timelines, quality standards, and innovation remain uncompromised.
Another integral priority is ensuring the early stages of our customer projects are handled with utmost precision. This phase, which involves transitioning from an idea to a tangible product is critical. By ensuring the feasibility and safety of these projects, we set the stage for the subsequent steps, and it's a responsibility we take very seriously.
What has been the greatest benefit of being a BIA member?
Primarily, BIA offers us the opportunity to influence policy makers, ensuring that our perspectives and needs are appropriately represented and addressed in shaping policies for the UK life sciences sector. Secondly, BIA delivers excellent networking opportunities, giving us access to industry leaders and experts. Through various events, conferences, and initiatives hosted by BIA, we have been provided with numerous opportunities to connect with peers, share ideas, and potentially forge beneficial collaborations.
What excites you about the UK life sciences sector?
The UK life sciences sector is a hub of innovation and cutting-edge research. What genuinely excites me is the sector's dynamism and its continual drive to push boundaries. The presence of world-renowned academic institutions and their synergies with startups and established pharmaceutical giants creates a foundation for groundbreaking discoveries and advancements. The sheer diversity of projects – ranging from bio-conjugates to new drug modalities – is a testament to the sector's vast potential and its readiness to address the multifaceted challenges of modern medicine.
If you could invite any scientist or entrepreneur to dinner, who would it be and why?
If I had the opportunity to invite any scientist or entrepreneur to dinner, I wouldn't necessarily choose the most renowned or historically significant figures. My interest lies in the future of science and the potential it holds. With that in mind, I'd opt for the young, brilliant minds making waves today. I would be particularly interested in inviting several individuals from the TIME 30 Under 30 list, those who are spearheading innovations and breaking barriers in the realms of science, medicine, and technology. While the past has provided us with invaluable lessons and incredible advancements, it's the thinkers of today and tomorrow who will shape our world in the years to come. Having a conversation with these up-and-coming innovators would undoubtedly be incredibly enlightening.
More about Nicole Wakes
The Cell Line Development division, under Nicole's leadership, plays a pivotal role in the biopharmaceutical chain within Abzena. The team, under her guidance, employs state-of-the-art technologies and methodologies to develop and optimize, therapeutic manufacturing cell lines, for scale-up, that are both robust and stable.
Nicole is now poised to transition and take the helm of all scientific operations at Abzena's Cambridge site. This new leadership role presents her with the exhilarating challenge of aligning diverse scientific sectors, optimizing workflows, and reinforcing Abzena's position as a key organisation for companies wishing to partner with a Contract Development and Manufacturing Organisation (CDMO).
Nicole's association with Abzena spans over a decade. During this time, she has witnessed and contributed to the company's growth, evolution, and its unwavering pursuit of scientific distinction. Before her time at Abzena, Nicole was an integral part of the research initiatives at Argenta Discovery. Preceding this engagement, she devoted approximately 16 years to GSK, refining her expertise as a Principal Scientist, where she made significant inroads in drug discovery and developmental processes.
More news and updates
More within