Member spotlight: Meet RRxCO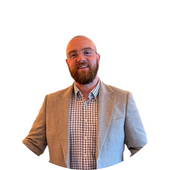 Meet Craig Bridgland, the Business Director of RRxCO, a global innovative life science consultancy firm, a partnership organisation providing quality & audit services, technical training, and search & selection recruitment. In this blog, Craig talks about RRxCO's passion, services, achievements and what sets the company apart.
---
Tell us about your company and ambitions.
RRxCo is an innovative life science consultancy firm based in the United Kingdom, as a specialist provider of end-to-end solutions to support Biotechnology start-ups to established Pharmaceutical Manufacturing and Clinical Research Organisations to achieve and maintain regulatory readiness. Our passion for innovation, collaboration, integrity, and an unwavering commitment to delivering high-quality simple solutions has propelled us to work with life-altering organisations.
At RRxCo we want to effect real change in the industry and be a major contributor to our customers' success whether this would be to achieve a site license, build a start-up biotech firm from the ground floor or the consolidation of established business units. We appreciate the challenges that everyone faces however we work with customers in tandem to partner and reach a solution together.
What is your company's biggest achievement so far?
Our biggest achievement so far is being partnered with some of the most interesting and lifesaving technology/life science companies in the world. It's a huge achievement for RRxCo with every customer we support as we are not a transactional business and never will be.
What are some of the priorities that you're currently working on?
A lot of organisations are finding it challenging to secure funding at present so enabling customers to spend the right amount of resources and also on the right solution is number one for us at present. We also appreciate that securing good talent is very difficult along with new factors to take into consideration; flexibility, higher salaries, increase in SME Contractors vs Senior Permanent Talent. We map Technical Operations (QA, QC, CMC, Validation, etc.) skill sets across the market, making identification and engagement of talent extremely simple. This allows us to focus on the customer's message that we are presenting to engage certain talent pools and ensure that every aspect of the company and position is defined, including the EVP is fit for purpose and live data is used to make educated decisions on what direction to go.
Growth & Efficiency – We are not able to help everyone. This is very frustrating to say to customers, we have all the capability and experience at our fingertips however sometimes capacity is a challenge. As a start-up with over 50 years of combined experience, our priority is to grow our business with the right talent whether the previous experience is held, we truly believe attitude and values beat experience every time. We are surrounded by a community of both internal and external support channels to learn, grow, and understand.
What has been the greatest benefit of being a BIA member?
Being welcomed with resources and a community that provides a platform for exposure and the opportunity to understand more about challenges across members and the wider industry is extremely helpful. The platform enables RRxCo to get closer to market trends, current and common issues that everyone faces in the industry.
What excites you about the UK life sciences sector?
The level of innovation that is happening and that can happen. Out of all other industries we are the closest to making all life (human and animal) better. Knowing that we could be helping an organisation to either save a life or make one better is extremely satisfying. Everyone has been on an extreme roller coaster in the last 5 years and something that has grounded me is what we do in life science.
If you could invite any scientist or entrepreneur to dinner, who would it be and why?
Steven Bartlett! What Steven has achieved is incredible, regardless of start or finish, what fascinates me is the journey he went on, literally grinding away like water on a rock face. Whether business, personal growth or just being exactly who he says he is has really grounded me personally and professionally to just do "that extra bit" on each task, each day and with each person – the compounding of massive effort and action really did help me achieve the right direction, not the destination. Speaking just specifically about the "Diary of the CEO" podcast I would highly recommend anyone to listen, regardless of what you are trying to do, there is a massive information bank if you're willing to take the time.
More news and updates
More within