Member spotlight: Meet Standigm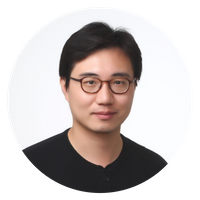 Meet Jinhan Kim, CEO of Standigm, a workflow AI-driven drug discovery company. Founded in 2015, the company has established an early-stage drug discovery workflow AI to generate First-in-Class lead compounds, they have raised $71.2M from leading investors and developed an elite team with multi-disciplinary expertise in chemistry, biology, pharmacology, artificial intelligence, and data structures to ease the pains of patients all over the world. Take a closer look at Standigm in this blog!
Tell us about your company!
Standigm is a workflow artificial intelligence (AI) drug discovery company. We have proprietary AI platforms encompassing novel target identification to compound design and to generate commercially valuable drug pipelines. Pursuing full-stack, AI-driven, industrializing drug discovery, Standigm has achieved molecular-design workflow automation that is expanding to the entire drug discovery process via AI platforms such as Standigm ASK™ for novel target discovery and Standigm BEST™ for novel compound generation. We are a global company with offices in Cambridge, UK; Cambridge, MA, US; and Seoul, South Korea.
What do you consider to be your company's greatest achievement so far?
We have completed developing end-to-end AI technologies from novel target identification to compound design, dramatically reducing the time for drug discovery from 2-3 years to an average of 7 months. There are about 400 AI drug discovery companies in the world; few have touched end-to-end AI as we have. With this technology, we manage our own pipeline projects and produce our own results rather than follow a service or cooperative model. Since establishing our global offices in the US and UK, we have collaborated with big pharma companies for research and made deals to provide them with our services and assets.
What have been your biggest challenges so far?
Standigm is a company where people from different fields (AI, Software, Chemistry, Biology) gather. Because we work together to develop an AI platform and AI-driven drug pipelines, it was difficult for people from different fields to understand each other's skills and create appropriate separation from the workflow that they work organically.
What's your company's ambition?
We are partnering, both publicly and privately, with pharmaceutical giants, biopharma companies, universities and research institutes. Together, our pipelines are producing strong opportunities for treatments for diseases with high unmet medical needs, such as Parkinson's disease, Alzheimer's disease, Crohn's disease, mitochondrial disease, cancer, rheumatoid arthritis, non-alcoholic liver disease (NASH), plus conditions such as autism spectrum disorder, and the list goes on. We hope these collaborations will change the drug discovery industry and the world at large.
Why did you join the BIA?
We wanted to get more involved with the UK bioindustry society and explore more collaboration opportunities to apply our technologies. Meeting with the players who are significantly contributing to this sector and collaborating with them will create value in expediting and improving early drug discovery. We have AI capabilities that can drive our partners' pipelines cost-efficiently, with better targets and lesser need to synthesize large numbers of compounds.
What excites you about the UK life sciences sector?
Definitely the amazing players who are densely networked within the ecosystem. Talented people and brilliant ideas become good seeds. In this ecosystem, we are witnessing enormous progress empowered by synergistic partnerships, and it motivates us to get involved, work together and achieve greater value.
If you could invite any scientist or entrepreneur to dinner, who would it be and why?
Demis Hassabis, CEO and co-founder at DeepMind and Isomorphic Labs.
He turned artificial intelligence into an industry stage. He demonstrated artificial intelligence technology, which was applied as a fraud, a lie or a toy problem (a simple problem), as a real task (playing arcade games). Furthermore, he made AI results that surpassed the best problem of human intelligence, deepening and expanding challenging areas through AlphaFold and Isomorphic Labs.