Member spotlight: Meet UCB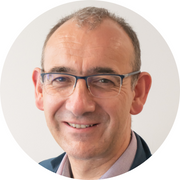 Dr Alistair Henry is the Head of UK Research and Site Head, UCB. He has worked at UCB for more than 25 years focused on antibody and small molecule drug discovery and technology development. He leads UCB's UK team of scientists working on discovering and developing treatments primarily in immunology and neurology, as well as seeking and securing partnerships and collaborations with academia and industry to advance drug discovery in the UK.
Prior to joining UCB, Alistair was a Postdoctoral Research fellow at King's College London, where he also obtained a PhD in biophysics and a degree in immunology.
In this blog, Alistair shares insights into the history of UCB, the company's journey since its inception in 1928 and how BIA membership has impacted the company's growth.
---
Tell us about your company. What have been the most impactful milestones in your company's history?
UCB is a Belgian company, founded in 1928 by the entrepreneur, Emmanuel Janssen. Formed in the inter-war years, Union Chimique Belge, as it was then known, was the result of a bold merger of companies and had four distinct divisions: coke, chemicals, photography, and pharmaceuticals. It was established with the vision of creating new, innovative chemicals and pharmaceuticals, built on the values of integrity and societal responsibility. Union Chimique Belge was relaunched as UCB in 1945 and for almost 100 years has evolved through worldwide social, political, and economic challenges, to remain a Janssen family company true to its values.
There have been a couple of milestone moments over this time that make us the company we are today. In 1994 the company became global when it expanded in the United States, establishing our US headquarters in Atlanta, Georgia. And in 1999 UCB joined the elite group of pharmaceutical companies that had launched a blockbuster product, beginning our history in immunology. In 2000 we entered the neurology space. 2004 was a landmark moment when simultaneously UCB cemented itself in the immunology space by acquiring British biotechnological company Celltech and sold its other activities, to become a pure biopharmaceuticals company. In 2006 UCB acquired the German firm Schwarz Pharma, expanding its neurology pipeline.
Today UCB is a global, patient-preferred biopharma company with more than 3.4 million patients using our medicines. We have grown to a team of more than 8,700 employees with operations in 36 countries and three global R&D hubs – UK, US, and Belgium – working to discover novel and innovative solutions to transform the lives of people living with severe diseases, including most recently, those that are rare.
What are some of the new projects you're working on at the moment?
One of the most interesting, and exhausting, projects I am currently leading is our relocation to UCB's new, state-of-the-art campus in Windlesham, Surrey!
The beautiful greenfield site was formerly owned by Eli Lilly, and we are completely refurbishing it to meet our science needs for the future and building an ambitious and architecturally stunning collaboration hub to bring together our 1,000-strong UK-based workforce delivering our R&D, early manufacturing, and commercial operations.
It will be at Windlesham that UCB will accelerate our efforts in advancing personalised medicine. This will involve new ways of extrapolating patient insights and preferences, developing new medicine discovery and development techniques and harnessing the progress of the move to potentially curative cell and gene therapies.
For scientist me, and not site head me, this is ultimately the most exciting project! How phenomenal that science can support us to modify and potentially cure life-limiting conditions.
What have been the biggest challenges over the last few years and how did you overcome those?
COVID is an obvious challenge to point out because it was clearly so disruptive for everyone and devastating for others. For UCB, in the early days it affected our ability to deliver our research programmes, but it jolted us into creative mode; encouraging us to find new ways of working so we could continue with our science and bringing medicines to patients. Many of those creative practices remain even now, bringing efficiencies to the organisation and giving our employees flexibility in their working practices. The pandemic also opened the world of collaborative science and delivered research without borders. The COVID Moonshot project, which UCB played a key role in, is a prime example of this activity, with researchers working together worldwide with one aim – to combat COVID.
Brexit is another challenge we have all had to navigate. Coupled with the ongoing war in Ukraine and a global cost of living crisis you could say we are living through unprecedented times that are impacting all of us personally and professionally. The UK life sciences sector is also having somewhat of a challenging time because of these issues. How we encourage investment in research in the UK, pay for, and access treatments is an ongoing issue for the biopharmaceutical industry. And one we are committed to working with the BIA, other trade associations, the NHS and Government to resolve as we believe the UK has the potential to reach its ambition as a science superpower.
As one of our longest-standing members, what do you find most useful about being part of BIA?
We are always the first say that we can't do everything ourselves, no-one can. To address the major health challenges of our time and bring value to patients, healthcare systems and society we need to work together. We need to work with Government, academia, the NHS, third sector and others to deliver change that sticks.
And, whilst it's important to speak out independently at times, it's also important to build a collective position and deliver strength in numbers. The BIA helps do that; bringing life science organisations big and small together to help develop considered solutions to broad challenges and engage with stakeholders to help prioritise these.
In your opinion, what impact did BIA have on your company as a BIA member:
We've had a long and strong relationship with the BIA over many years being one of its first members at its inception in 1990. During this time, we've been members of various committees and working groups allowing a valuable two-way exchange of information: UCB feeding in examples of both successes and challenges from our perspective, the BIA sharing insights, and perspectives from theirs. It was particularly nice to do this in-person recently when the BIA team came and visited our campus in Slough for a tour around our labs and a meeting to discuss ways of working.
…biotech and life sciences industry:
The representation that the BIA gives life science members is vital in advancing the sector. This applies to long-term topics like research and clinical trials, HTA methodology, regulation, and the commercial environment as well as emerging topics that require more urgency, such as the co-ordinated response in the early days of the pandemic or helping find solutions for industry to market changes or instability, as with the recent Silicon Valley Bank issue.
What excites you about the UK's innovative life science and biotech sector?
The UK is an important place for UCB. It's home to one of our three global research hubs and a place where many of our medicines were discovered and developed. We have invested significantly in the UK with our move to Windlesham where we are developing a state-of-the-art campus and supporting more than 650 high-value jobs that will continue this discovery science for the benefit of patients worldwide. So, it is fair to say that we are excited about the potential of the UK. It is home to world leading universities, academics, and scientists as well as renowned bodies like the MHRA, NICE and of course the NHS, all of whom we work closely with.
However, the UK life science sector is not without its challenges. If the Government is serious about the UK being a global science superpower, it needs to do all it can to ensure the UK remains internationally competitive and continues to attract and retain the best businesses and talent. We look forward to continuing to be part of the discussion of how to effectively achieve this.
If you could invite any scientist or entrepreneur to dinner, who would it be and why?
Rosalind Franklin. She overcame significant prejudice to accomplish so much in just 37 years. Not only did she have an impact in Physical Chemistry (coal microstructure); she went on to make a major contribution to virology. But it was her work on the structure of DNA that she is rightly famous for. She was a brilliant scientist who died way too young. Every day for nearly ten years I walked past the original model of the DNA double helix structure that was in the lobby of the Randall Institute at King's College London, and it was such an inspiration. It was Rosalind's experimental work and her careful interpretation of all the data that led to that structure and from there the whole biotechnology revolution. She was open to asking, 'what does the data teach me?' and I would have loved to have had dinner with her and explored what her motivations were.
More news and updates
More within