Memorial tribute to Aisling Burnand CBE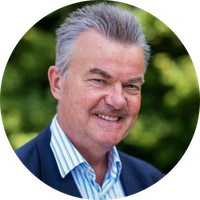 A BIA Memorial tribute on the occasion of the reception to celebrate the life and career of Aisling Burnand CBE, late CEO of the BioIndustry Association (BIA) by Prof Simon G. Best OBE, FRSE.
---
I had the pleasure and honour of working closely with Aisling for 10 years which were pivotal to both our careers.
I want to start by celebrating Aisling the person – a very smart, fun and funny woman – an excellent reader of character and social dynamics with a deep understanding of all the key constituencies, allies and enemies she needed to interact with to deliver what mattered – tough when she needed to be – not willing to accept fools gladly (but in the nicest possible way) – humble – sometimes self-doubting which led to self-questioning that made her stronger and more effective – above all deeply caring both for her staff, colleagues, patients and most of all, her family.
I now want to share some of the challenges we worked through together which illustrate the considerable impact these allowed her to make.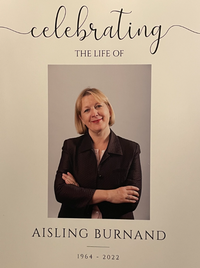 I first started working with Aisling in July 1999 when she was still relatively new as the Communications Director for the BIA. I had just announced the merger of the start-up I had built at the Roslin Institute around Dolly the Sheep – Roslin BioMed – with the early US leader in Human Regenerative Medicine – Geron Corp. (NASDAQ:GERN).
The immediate media flurry of concerns about human cloning triggered the formation by the Government of an expert advisory group, chaired by the government's chief medical officer Liam Donaldson, to consider the risks and benefits of the use of cloning techniques on human embryos, to allow what was described at the time as "therapeutic cloning".
It was quite a leap at the time for BIA to commit its support to an animal-based platform with potentially controversial human applications as it had deliberately kept out of agriculture to avoid potential contamination of Biotech for medicine from the GM Food controversies on which I had been on the front line. Having succeeded in the successful introduction of GM Foods in the US but having failed in the EU, I was determined to ensure that the UK did not lose the opportunity to take a global lead in an exciting new area of medicine.
Securing support from the UK BioPharma sector was critical so I approached the BIA via their then CEO – Crispin Kirkman – who asked me to work with Aisling to test and build the case for taking a proposal to the BIA Board. We clicked from the start and she quickly arranged introductory meetings with several UK BioMedical thought leaders and Patient's groups such as Parkinson's UK and Genetics Alliance UK. They all recognised that the combination of the successful derivation of Human Embryonic Stem-Cells by U.Wisconsin for which Geron had an exclusive license and the Roslin Nuclear Transfer platform opened up a wide range of new therapeutic opportunities addressing major unmet needs. With their support, the proposed pitch to the BIA Board which went through in September 1999.
This catalysed an intense period of work for Aisling and I to support the Donaldson process by identifying and cultivating cross-party political support, educating and persuading potential media allies and maintaining and broadening the support from Patient's groups – tasks for which Aisling's extensive roladex and well-honed lobbying tradecraft meant she was well-prepared. We also both had to stand-up and be counted as spokespeople in heated and sometimes hostile public fora and media debates in which she also excelled.
The Human Fertilisation and Embryology (Research Purposes) Regulations 2001 were approved by the British House of Commons on 19 December 2000 and by the House of Lords on 22 January 2001. This opened the doors for UK Biomedical Research to build a pre-eminent global position in what we now know as Regenerative Medicine and Cell and Gene Therapies.
Aisling had recruited one particularly important political ally in Baroness Warnock – the architect of the original HFEA and champion of IVF. One of my post poignant memories of Aisling is sitting with her in the empty lobby outside the House of Lords on the evening of the debate waiting for the Baroness to share the result which she did and then kindly took us both for a celebratory drink in the Lords Bar.
The momentum built from this campaign propelled both of us into leadership roles at the BIA – for Aisling as CEO and myself onto the Board in 2003 and then as Chairman from 2005-7.
Aisling was an exemplary female leader of whom I and many of us here were very fond and very proud to have known and worked with. A great loss to who will always be remembered.