National Apprenticeship Week: Lara's journey to gaining 'Skills for Life'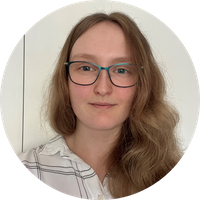 It's National Apprenticeship Week! This week (6-12 February) we're celebrating everything apprenticeships, with the 2023 #NAW theme being 'Skills for Life'.
We spoke to Lara Devenish, Quality Control Associate Scientist at Autolus. Following her sixth-form studies, Lara joined Autolus as an apprentice where she obtained her foundation degree and Bachelor's degree in bioscience. Read this blog to learn about her experience as an apprentice.
---
Tell us a little about yourself
I am Lara Devenish, and I work for a company called Autolus which specialises in Cell and Gene Therapies for cancer patients by developing and manufacturing CAR T Cells. I have worked within each of the major departments including 12 months in Production as an associate operator, 12 months in Quality Assurance as an associate and 2.5 years in Quality Control as an associate scientist, with my recent move being Microbiology as a microbiologist. I joined Autolus as an apprentice where I obtained my foundation degree and bachelor's degree in bioscience. I joined straight out of sixth form where I obtained my BTEC qualifications in Applied Science, Health and Social Care as well as Business.
When did your passion for STEM begin and what drew you to this vocation?
I had an interest in science growing up but never knew what area I wanted to work in. Once I started working at Autolus, it was challenging, exciting and interesting due to being an innovation in a growing market, with Autolus leading the way. It is interesting seeing the science behind the product and the effects it has on the patients, knowing that it is life-changing for many due to patients going into remission from our therapies when all other treatment has failed.
Is there anything you have achieved that you are particularly proud of and why?
I started at Autolus when it was a small, new company. When we only had 1 office, one laboratory and one production module, with around 75 people. Now there are over 500 employees, moving into a new building, updating the current process, introducing new process as well as introducing new in-house testing which was originally outsourced. I have been a part of that expansion and development which is a rare opportunity. Despite the challenges, it has allowed me to develop new skills which have allowed me to progress further than originally predicted.
Please share a positive experience you had, perhaps with a mentor or taking part in a programme, which propelled your career and gave you more visibility.
ATAC (Advanced Therapies Apprenticeship Community) has been a massive help for myself and my career, exposing me to multiple different workplaces within science sectors, and preparing me for my apprenticeship. For example, I had the opportunity to go to other science companies including GlaxoSmithKline as well as Cell and Gene Therapy Catapult in London and Stevenage. They have also provided me with opportunities to expand my visibility through networking. This includes attending awards, house of commons, labour party and conservative party functions, and some events more local to home which also enabled Autolus exposure to up-and-coming talent.
What advice and encouragement can you offer to others wanting to enter a career in STEM?
Figure out what career path you want to go down and then do the research to determine what qualifications or skills you need to get you there. Prepare to pivot or change from what you're currently doing and be open to learning! Whichever sector you choose to be in, ensure it is something you enjoy and are willing to be challenged in, as it is also a rewarding and fulfilling job.
If you could invite any scientist or entrepreneur to dinner, who would it be and why?
I would invite Frederick G Banting and Charles H Best. This is because they are the inventors of insulin, and medicine has changed so much due to their discovery and innovation. Unfortunately, diabetes runs within my family so I'd very much like to thank them for providing a treatment.
Find out how you can get involved in National Apprenticeship Week 2023
More like this
More within