Passion and purpose in biotech: Marília Aires' #BIGIMPACT story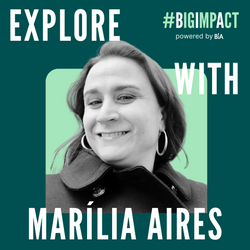 Earlier this year, we launched our #BIGIMPACT campaign to encourage people with digital and data-driven skills to consider a career in the biotech industry! The #BIGIMPACT website highlights the work of data-driven life sciences and biotech companies, researchers, and entrepreneurs who are developing new drugs, diagnostics, and technologies to improve human health.
In this interview, Marília Aires, Legal Counsel and Data Protection Officer at Lifebit, shares her personal experiences working in the sector, detailing her inspirations and what she is most proud of.
---
What inspired you to get into the biotech industry?
My goal has always been to contribute to society in a meaningful way and pave the way for a brighter tomorrow for generations to come. I am passionate about making a positive impact, promoting justice, and supporting those in need. Despite my initial inclination towards law, I discovered that my values align very well with biotech, and I got to make my grandmother proud. I firmly believe that any role in this industry can make a difference, including legal and compliance positions. You don't need to be a medical professional or a bioinformatician to have an impact in biotechnology.
What do you enjoy most about the work you do?
As a lawyer, I find the most fulfilling aspect of my work is the opportunity to push myself beyond my limits and learn something new every day. Working with people from diverse backgrounds and cultures has opened my eyes to new perspectives and ways of thinking. The fast-paced nature of the legal industry and biotech keeps me on my toes and constantly challenges me to improve and grow.
Despite the pressure and challenges that come with being part of a legal team, I take pride in my ability to think outside the box and find creative solutions to complex problems. I am grateful for the opportunities that my career has provided me with so far, and I look forward to continuing to learn, grow, and make a positive impact on people's lives.
What are you most proud of in your career so far?
I'm most proud of receiving a Leadership Award for continuous improvement and stepping out of my comfort zone.
How would you describe your company culture?
Lifebit has a meaningful vision of impacting the world by making data available to cure diseases. Our industry is dynamic and moves at a rapid pace, necessitating proactive, efficient, and forward-thinking approaches to work.
What piece of advice would you give your younger self?
If I could go back in time and speak to my younger self, I would offer the sage advice to pursue her passions relentlessly. With unwavering determination and perseverance, she can accomplish even the most improbable feats. So, I would urge her to never lose sight of her aspirations, and to never surrender in the face of adversity. By doing so, she will unlock a world of unforeseen triumphs and accomplishments.
What one word would you use to summarise your experience so far within this industry?
Rewarding! The industry allows people to make a difference and contribute to important causes.
More news and updates
More within