Stepping into leadership roles with UKRI's Future Leaders Fellowships
Meet Ioanna Mylonaki and Alice Ghidini of Sixfold Bioscience, both Future Leader Fellows. UK Research and Innovation works in partnership with universities, research organisations, businesses, charities, and government to create the best possible environment for research and innovation to flourish.
Read this Q&A blog about their experiences of a business-hosted Future Leaders Fellowships (FLF).
---
Introduce yourself!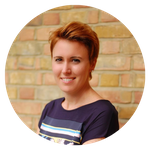 Ioanna: My name is Ioanna and I am leading the preclinical R&D team at Sixfold Bioscience Ltd, a London based biotech startup. I am a drug delivery pharmaceutical scientist by training, developing biomaterials for the administration of RNA, cells and small molecules. In 2020 I was awarded a business-hosted UKRI Future Leader Fellowship. I am also an Honorary Research Fellow at the Department of Chemical Engineering at Imperial College London and member of the Strategic Advisory Board at the Royce Institute of Advanced Materials. I am passionate about translating my research to benefit patients living with detrimental diseases.
Throughout my career I developed stem cell delivery formulations for regenerative therapies, silicon-based biomaterials, bioreducible polymeric nanoparticles, exosomes for the intracellular delivery of gene therapies and transfection of T-cells for CAR T-cell therapies; at Imperial College London (Molly Stevens group). During my PhD at the University of Geneva (CH), I developed depot sustained release systems. My career pathway was always marked by translational horizons: in 2018, I co-founded Experoment Ltd, establishing the business case for cloud-based synthetic biology. In 2012-2017, I worked with Aptissen S.A. (CH) on the production, scaling and regulatory concerns involved in the entry of a pharmaceutical product to the market.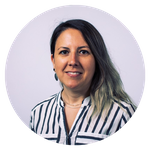 Alice: My name is Alice Ghidini and I am currently leading the Structure and Characterization team in Sixfold, a startup based in Imperial College I-HUB.
I have a broad background in nucleic acid and RNA-based therapeutics technology gained during my doctoral and postdoctoral studies in the labs of three pioneers of the field, Roger Stromberg (Karolinska Institute), Peter Dervan (California Institute of Technology), and Jonathan Hall (ETH Zurich). During my studies in their laboratories, I accumulated expertise on the interaction between oligonucleotides and proteins/RNA targets. My projects aimed at the development of innovative RNA-based technologies such as RNA-based artificial enzymes, PNA triplexes and oligonucleotide-based PROTAC. In 2021 I joined the Oligonucleotide platform of AstraZeneca as an Assistant Principal Scientist in the Biophysics department where I studied the influence of oligonucleotide/proteins binding on their toxicity and potency. I have recently finished my studies on Entrepreneurial leadership (EMBA) obtained from the Business School of the Univerisity of Geneva.
How did you find out about FLF?
Ioanna: Back in 2019, the FLF was starting to become a 'buzzword' for all early career stage researchers across the UK and throughout the world. The first FLF rounds were assigned and everyone was talking about the flexibility and freedom offered by this unique fellowship.
Alice: In early 2019 I was close to the end of my postdoc at ETH and for the first time after a decade I started to contemplate the opportunity to make my next career step outside of academia. Sixfold contacted me for the FLF fellowship and in 2020 we submitted the application for round 5.
What made you apply for FLF and how has it helped your career?
Ioanna: In 2019, I was at a crossroad in my career, where I was contemplating jumping out of academia and into the startup world, after 2 years of postdoc at Imperial College London. But my academic career path was so well aligned with the efforts of almost a decade, that made it difficult for me to take the decision to leave academia. Yet, I had engaged in the creation of a startup and realised that the agility found in a startup was matching well with my career aspirations.
The solution came when Sixfold Bioscience reached out to me, to apply for a business-hosted FLF. This was the first time I would find out that the FLF was accommodating business-based fellows. The idea of establishing my research team in a fast-paced startup environment to develop my research projects, shaped my ideal career path.
Joining Sixfold at such an early stage for the company was a big career risk for me. The company was still at pre-seed stage, with only a handful of employees. Yet, they already had a promising patent portfolio and passionate founders. The FLF catalysed my decision to join them, by securing independent funding to build my team. The stars were aligning!
Alice: In 2020, while waiting for the FLF grant decision, I moved to Gothenburg to work in AstraZeneca and started my EMBA in Entrepreneurial Leadership. I was training myself to move towards a leadership position and I wanted to be prepared, at least from a theoretical point of view, before jumping into that new role. The news of being awarded with the FLF put me again in front of a very important career choice, which contemplated leaving a very good job in a Pharma company, and moving to the UK in a period of worldwide political and economical instability. While reading about the benefits coming with FLFs, it was clear to me that this was a great opportunity and it was worth taking the risk.
What have the benefits been (both for you and the company)?
Ioanna: The first 18 months of the FLF allowed me to grow both in the scientific and leadership front. Along with the founders of Sixfold, we went through a very rapid growth from 6 to 28 FTEs. The creation of our multidisciplinary team gave me access to new methods and technologies, resulting in exciting projects. It was also an intense crash course in terms of research, people and project management - I learned a lot on conducting interviews, strategically setting company goals, and aligning them to the team's expectations through the creation of a career framework. This work is culminating in a fascinating set of research projects with the ambition to develop a new way to design drug delivery systems.
An SME can benefit from hosting FLFs by gaining access to excellent scientists that are carefully selected and bred as future leaders by the UKRI (e.g. FLF Development Network). The non-equity funding of >£1.5M that comes along with the FLF; allows the company to address high-risk-high-benefit projects that would otherwise not be funded, to expand their portfolio.
Alice: The most important benefit for both me and Sixfold was the chance to have initial funding to start a small team of Biophysics that could provide the scientific knowledge needed for the development of the company product and my FLF project, which are complementary to each other. From my side, the biggest advantage coming from FLF is the continuous support in my leadership growth through mentorship and coaching programs, plus the economical support for my scientific project.
My proposal is aligned with the current direction of the pharmaceutical field (RNA-therapeutics) but my project is designed to add a strong layer of innovation to the more traditional RNA-based therapeutics. The FLF granted me the opportunity to engage in an explorative project with a level of risk that would be hard to take for any company, but which has high potential also thanks to the great collaborators I have.
What advice would you give to someone considering applying and some of the pitfalls to look out for?
Ioanna: It is important to think carefully if your business-host is aligned to your career aspirations. An FLF is a very unique type of employee that brings its own team and cash; hence FLF applicants need to ensure that the framework for this interaction is well set from the beginning, including discussion about freedom of developing research projects and IP.
Alice: I would suggest discussing thoroughly with the business host the conditions of employment and how the company will support their growth even after the fellowship. The project should also be aligned with the company setup, especially if lab based. The main instruments should potentially be available to allow a fast start of the scientific proof of concept.
Would you encourage others to do the same and what support did you need?
Ioanna: Being passionate about translational research, the business-hosted FLF was for me a unique career opportunity that combined independent research in an industry setup. After interacting with other business-hosted FLFs, I was amazed by the breadth of formats that a business-hosted FLF can take; for example the business host can be anything from a large multinational company to a small biotech. This is after all the beauty of it; one can develop their own format for this fellowship as long as they have found the 'sweet-spot' between ambition and realistic planning.
The founders of Sixfold as well as the Imperial College London PFDC (Postdoc and Fellows Development Centre) were of invaluable help for the application; as the FLF application comes in a very condensed format where wording is important to show a concrete plan to become a leader. It also took some personal search, supported by my family and friends, to articulate what was my leadership vision.
Alice: I highly recommend applying for the Business-hosted FLF fellowship especially to the applicants that are in the stage of their career where they think they want to move to a leadership position or if they want to switch from academia for the first time. I had a huge support from Sixfold and I suggest to everyone applying, to ask for a high level of support throughout the application process from their business hosts.
---
Future Leaders Fellowships Round 7 has now closed. Keep an eye on this page for information on upcoming rounds. Future Leaders Fellowships (FLF) support businesses to develop their most talented early career researchers and innovators or to attract new people to their organisations, including from overseas. The aim of the scheme is to develop the next wave of world-class research and innovation leaders in academia and business. It is also open to international applicants looking to take up a role at a UK-based organisation.
More within