UK TechBio driving AI revolution in drug discovery and patient care
AI, gene editing, engineering biology, and investor interest drive growth in UK bioeconomy.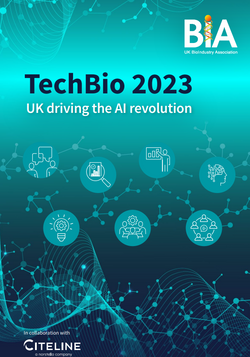 London, UK, 18 October 2023 - A new report by the BioIndustry Association (BIA) highlights the UK TechBio sector as thriving, with a growing number of companies pioneering groundbreaking products and services, seamlessly integrating biotechnology and technology.
Testament to the sector's vitality, both public and private investors are increasingly recognising the potential of TechBio companies to drive the UK's bioeconomy. Over the past year, a wave of new companies has been established and secured significant investments. These dynamic companies are profiled in the BIA's latest report, which offers a glimpse into the ever-evolving landscape of TechBio in 2023.
The TechBio landscape is constantly evolving. Several notable trends have emerged this year, underlining the sector's growth. These trends include the widespread adoption of artificial intelligence (AI) and machine learning (ML), the continuous advancement of gene editing technologies, the immense power of engineering biology, and a growing interest from both technology investors and major pharmaceutical players. Governments are also recognising the pivotal role that AI and ML will play in the fourth industrial revolution.
The report spotlights early-stage companies driving innovation in the TechBio space. Among these are Brainomix, Cardia Tec, Sixfold, Turing Biosystems, Etcembly and Serna Bio. These visionary companies will be presenting their innovative technologies and sharing what sets them apart at the BIA's TechBio UK conference, scheduled to take place today, 18 October in London.
Steve Bates, CEO of the BIA, said: "The BIA is committed to supporting the growth of the TechBio sector and to raising awareness of the companies in this space and their incredible potential. The UK has emerged as a prominent player in TechBio deal-making, trailing only the US over the last 18 months, showcasing the sector's rapid ascent and its significance on a global scale.
In this our third TechBio report, we revisit progress in these areas, take a bird's eye view of the broader State of TechBio as the sector matures, and highlight some incredible new companies in the space."
In a world with an escalating need for scalable and cost-effective solutions, driven by the prevalence of chronic diseases (such as cancer, Alzheimer's and heart disease), an ageing population and rising healthcare costs, the demand for innovative solutions is on the rise. These factors are contributing to the exponential growth of the TechBio industry, which is projected to reach a value of $2 trillion by 2025.
For more information about the BIA's TechBio UK conference and to stay updated on the latest developments in the TechBio sector, please visit techbio.org.uk
-Ends-
Notes to editors:
About BIA
The BioIndustry Association (BIA) is the voice of the innovative life sciences and biotech industry, enabling and connecting the UK ecosystem so that businesses can start, grow and deliver world-changing innovation.
Helping biotech and life sciences sector to influence, connect and save. www.bioindustry.org
More within