The BIA Rare Disease Industry Group (RDIG) represents a group of innovative bioscience companies that specialise in treatments for rare and ultra-rare diseases.
The RDIG is committed to developing recommendations that can pragmatically inform and improve the challenge of ensuring patient access to treatments for rare and ultra-rare conditions, sometimes referred to as orphan and ultra-orphan medicines.
What is a rare disease?
A rare disease is defined as one that affects less than 5 in 10,000 of the general population and an ultra-rare disease affects less than one patient per 50,000 of the European population. In the UK, it is estimated that 1 in 17 people – approximately 3.5 million people – may be affected by a rare disease at some point in their lives. The impact that rare diseases have on patients, their families, and society is profound, as many are severe, chronic and progressive, with high mortality rates.
In England, there is no dedicated process to assess orphan medicines and uptake of these medicines is varied. According to the Office of Health Economics of the 143 orphan medicines that were available in the UK, only 68 of these medicines were reimbursed and made available to NHS patients in England. In contrast, 116 orphan medicines are reimbursed in France and 133 are reimbursed in Germany.
---
Rare insights: examining the social values of treating rare diseases
Rare insights presents the findings of primary research into public opinion on how treatments for rare diseases should be evaluated and funded within the NHS. The findings signal the need for fresh research to determine the social values that should underpin the methods and processes used by NICE to make decisions about the NHS funding of treatments for rare diseases.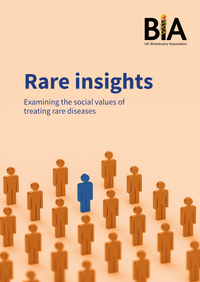 There are around 7,000 known rare diseases. Despite this, only 5% of rare diseases have a single licensed treatment. As a result, many people living with rare diseases die prematurely or live with debilitating symptoms. This places huge burdens on caregivers, families, and society.
Rapid scientific advancements are enabling the life sciences sector to develop new life-changing and potentially curative treatments for rare and ultra-rare diseases (otherwise known as orphan and ultra-orphan medicines). Developing a drug for any condition is a long and expensive process, but for rare diseases, the situation is even more difficult.
Watch this animation to find out about the challenges of developing treatments for rare diseases.
Rare Disease Day: achieving equity
This year, Rare Disease Day is being celebrated on 28 February, raising awareness and working towards equity in social opportunity, healthcare, and access to diagnosis and therapies for the 300 million people worldwide living with a rare disease.
Take a look at this blog, where Senior Policy and Public Affairs Executive at BIA, Joe Smale, explains the difference between equality and equity and reflects on the findings of recent BIA research, indicating public support for achieving equity of access to treatments for people living with rare diseases.
---
RDIG's report: A Rare Chance for Reform
The BIA RDIG's report, A Rare Chance for Reform identifies key areas where reform would lift those barriers and ensure access to rare disease medicines, creating a new way forward for evaluating medicines for rare and ultra-rare diseases in England.
"The BIA convened a group of its members interested in rare diseases to form the Rare Disease Industry Group, which has spearheaded this work. Now more than ever we need a rare and ultra-rare disease framework that works for patients, the sector, and the country." - Steve Bates OBE CEO, UK BioIndustry Association
This report contains a list of recommendations that will go a long way to address these issues.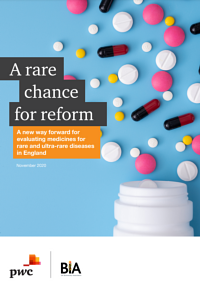 Accelerate access through a conditional access period
Introduce a fast initial evaluation that grants conditional access through a Managed Access Agreement, at a price consistent with other fast-adopting countries. The proposed Innovative Medicines Fund (IMF) would be the ideal vehicle to fund medicines within the Managed Access Agreement. This initial access should be followed by a more in-depth re-evaluation after a period agreed on a medicine-by-medicine basis, to improve the certainty and quality of data available for assessment. This process should be aligned with the existing accelerated regulatory processes by which drugs are often approved and be supported by adequate infrastructure to enable the collection of real-world evidence.
Address systemic issues to build a strong environment for access to orphan and ultra-orphan medicines
Resolve systemic issues such as consistency in evaluations, balancing value for money and patient needs, and ensuring appropriate infrastructure is in place to maximise the value of these treatments.
Update the evaluation framework to better account for the unique challenges of rare and ultra-rare diseases
As an outcome of the NICE Methods Review, assessments should be adapted to determine the value of a orphan and ultra-orphan medicines holistically, by capturing direct health benefits and indirect benefits. This can be achieved by amending the way that clinical and cost-effectiveness are calculated and pragmatically used, and increasing the flexibility for ICER thresholds through modifiers, to ensure the process is fairer and more robust.
Evaluate orphan medicines and ultra-orphan medicines through a single rare disease pathway
Adopt a single process to ensure that all orphan and ultra-orphan medicines are assessed by a process that accounts for their unique challenges.
Assess empirically-based ICER thresholds on a sliding scale
Create a sliding scale of thresholds for assessing orphan and ultra-orphan medicines supported by clear criteria on where an orphan medicine falls on the scale, to remove the need for arbitrary thresholds.
Continue to create a supportive atmosphere for patient groups
Strengthen NICE's existing approach to empower patient groups by identifying and addressing the concerns of smaller patient organisations, improving communication with stakeholders during the evaluation process and providing clarity on how evidence presented by patient groups translates into decisions
RDIG Members