TechBio 2.0
Showcasing the next generation of data-driven life science companies that use cutting-edge technologies to transform drug discovery and patient care.
TechBio companies combine cutting-edge techniques from both sectors to draw insights from a wealth of data, including data concerning patients, drug molecules, healthcare infrastructure and research and development. This data is not only being used to inform and transform drug discovery and patient care but, as we will see in this update, TechBio companies are also addressing challenges faced by industry and agriculture, such as creating cleaner and greener chemicals and materials.
Since our first report, "TechBio: How data-driven life sciences companies are transforming drug discovery and patient care", activity in this part of the sector has continued at pace. Public and private investors are already recognising the potential that TechBio companies have to drive forward the UK's bioeconomy. In the last year, flurry of new companies has secured investment and been established, some of whom are profiled in the new TechBio 2.0 report.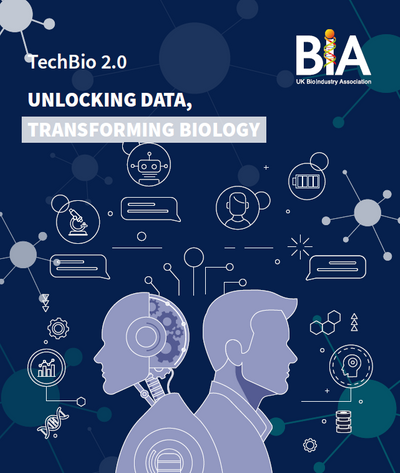 Read the Tech Bio 2.0 report for developments in data sharing, inspiring case studies and the future of techbio!
Foreword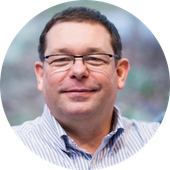 Mike Snowden, SVP Discovery Sciences, BioPharmaceuticals R&D, AstraZeneca
Data has always been at the core of drug discovery and development. Since the days of 'analogue' drug discovery we have used techniques like organ baths, IC50s and myography to observe physiology and create a structured way of finding and prioritising medicines that will most effectively treat patients.
As technology became more sophisticated the industry increasingly focused its attention on understanding the core building blocks of biology: DNA, RNA and proteins, generating omic signatures and building network maps and knowledge graphs that allow us to interrogate the true underlying mechanisms of disease and medicines.
The increasing adoption and application of Machine Learning and Artificial Intelligence (AI) to these data has started to address this issue, but raises new questions about the introduction of bias and the increasing 'black-boxification' of life sciences.

Extrapolating to the future we can speculate that as data generation continues to outstrip our ability to process and interpret data manually, we must increasingly rely on unbiased data interpretation to guide how we develop medicines and technology solutions to address big patient challenges.
Here a mindset shift towards the acceptance of the 'digitization of biology', will be facilitated by the coming-together of the TechBio ecosystem. In this ecosystem players will contribute and learn how we can collectively accelerate access to a new generation of tailored medicines and solutions that draw on the rich breadth and depth of the data now available to us.
At AstraZeneca we welcome the update to the BIA's TechBio report, which showcases new demonstrations of how the convergence of AI, data and biology (both organic and synthetic) can deliver a new wave of innovative science. Establishing a thriving ecosystem of established industry players, academics, startups and technology companies allows us to collectively build the appropriate frameworks to develop safe and efficacious treatments, and supports the UK's ambition to become a world-leading Science Superpower, as set out in the Government's Life Sciences Vision. Seeing this ecosystem flourish in the UK will continue to be dependent on building the sector skill-base and sharing culture that the BIA advocates for in this update, as well as the required trust in data sharing and usage called upon in the Department of Health and Social Care's 'Data Saves Lives Strategy'. Ultimately TechBio will help us move from symptom management towards slowing, stopping and even curing some of the most complex diseases through the development of data-driven, digitally-enabled therapies that deliver better outcomes for patients.
Understanding TechBio
A year ago, we've launched "TechBio: How data-driven life sciences companies are transforming drug discovery and patient care" to define, explore and create consensus around the growing group of companies working in this area of the industry. Previous labels for these companies, including digital health or data technology, failed to capture the breadth of work these companies are carrying out at the intersection of technology and biotechnology.
Through primary research with companies and sector experts, we landed on the term 'TechBio' by taking the 'tech' of technology and the 'bio' of biotechnology to group together these companies.This digitalisation of biology through the application of artificial intelligence (AI) and machine learning to data is enabling greater opportunities to standardise, automate and industrialise biological processes.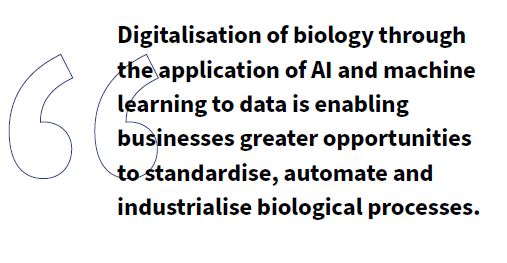 Policymakers are focusing on how public data can be shared securely and effectively so that researchers and TechBio companies can draw vital insights from it that will drive change in healthcare and drug discovery. The COVID-19 pandemic increased public interest in how health data can be collected and the benefits of using this data to rapidly develop vaccines, manage healthcare resources and repurpose existing drugs.
People have seen that donating and sharing their data can play a direct role in improving health outcomes, similar to donating blood. Despite game-changing advancements in data-driven life sciences during the pandemic, the public still have concerns over how their data is managed and shared. Building trust and maintaining transparency continue to be vital to reassure people that their data is being shared and used responsibly and for positive purposes and to encourage them to continue sharing it.
Developments in data sharing
Data is the lifeblood of TechBio companies, and how that data can be shared in a secure and effective way through trusted research environments continues to be a hot topic. A trusted research environment (TRE) is a secure environment that researchers enter in order to work on the data remotely, rather than downloading it onto their own local machine. Users can extract and download the answers from their analyses – such as results tables, or graphs – but individual patients' data always stays within the secure environment.
The UK has a unique global advantage with the NHS as a source of comprehensive health data for the population. The NHS Vision states that it will: "by 2025 have a world leading NHS-wide health data research infrastructure that enhances patient care, sustains the NHS and supports innovation." To make this vision a reality, in March 2022 the government committed £200 million to better facilitate access to NHS Health data. The £200 million investment aims to make research-ready data available in a streamlined, secure way through secure data environments (SDEs). A set of national and subnational SDEs will become the default route for accessing NHS data for research and innovation. The government's Data Saves Lives strategy commits to an accreditation scheme and full technical specification for the SDEs, drawing on industry best practice. This should both streamline access for data users and provide a higher level of security and transparency for the public on data sharing.
Some recent progress in adopting SDEs includes:
NHS Digital's (NHSD) national SDE
NHS Digital is currently piloting a national secure data environment, which provides approved researchers from trusted organisations with timely and secure access to NHS health and social care data.
The network of sub-national SDEs is being piloted in four locations to scope and define how NHS-owned secure data environments might work best at a regional level.
NHS England intends to procure a federated data platform to maintain the valuable data connectivity developed over the past few years using the COVID-19 data platform.

Case studies
The following four case studies illustrate just some of the innovation coming out of UK data-driven life sciences companies:
The Future
Sector skills – Securing talent that techbio companies need to thrive in the UK
TechBio companies face double the challenge when it comes to securing the talent needed in order to thrive and grow as they work across biotechnology and technology. Due to launch next year, the BIA is planning a national digital advertising campaign to help address the large gaps in advanced digital and data-driven skills for TechBio companies. The aim of the campaign is to help industry attract and inspire next-generation digital talent from a range of IT-related or IT infrastructure job titles and from AI, data and machine learning skills/courses including software engineers, data scientists, digital innovators and computer scientists.
The campaign will raise awareness of the fantastic career opportunities there are in biotech, in particular in TechBio, which is a rapidly growing area of the sector offering exciting career progression alongside the opportunity to make a difference to people's lives, their health and the planet.
The BIA are already supporting to ensure industry apprenticeships are made available, for example, we've helped launch data analyst and bioinformatics apprentice opportunities.
Digital Talent Survey: tell us what you think
To ensure the digital skills campaign attracts the talent the industry needs, we would like to hear your thoughts on:
Where do you currently hire data scientists and digital talent from?

What computational skills does your organisation need the most now and in the future?

What level of skills/stage of career (i.e. apprentices, graduates, doctoral, early career, career transition) are you looking to recruit?

Is your search focussed on the UK or also looking at attracting international talent?
Building momentum behind TechBio
Be part of the BIA TechBio LinkedIn group to connect and explore
Join the BIA and be part of our growing TechBio community
The BIA continues to act as a hub for all things TechBio and to ensure that the organisation is delivering the support and advocacy that TechBio companies need it has established a special community. The group is led by BIA Senior Policy and Public Affairs Manager, Emma Lawrence – for more information or to join the group, please email [email protected]
You can read more on TechBio, including a soon to be published position paper on what industry needs from the new SDE ecosystem on the BIA website.