Guide to the Government for BIA members (February 2023)
This is a briefing for BIA members on the Government led by Rishi Sunak, including the key ministers and policymakers for our sector. It reflects the changes resulting from Sunak's Cabinet reshuffle in February 2023, including the newly created Department for Science, Innovation and Technology.
The Government currently holds a working majority of 67 seats in the House of Commons. This majority was secured at the 2019 general election, the manifesto for which Sunak has said he is committed to.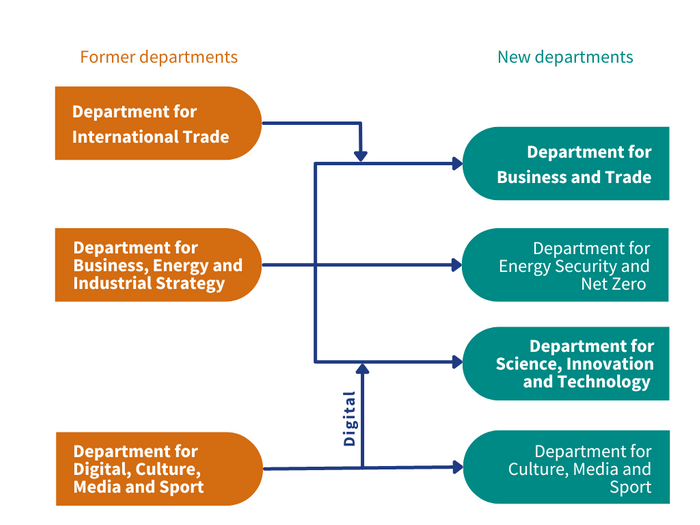 Departmental changes
Rishi Sunak's February 2023 reshuffle included a change to the machinery of government. The Department for Business, Energy and Industrial Strategy (BEIS) has been split up, with its life science responsibilities divided between a new Department for Business and Trade (DBT) and a new Department for Science, Innovation and Technology (DSIT). Responsibility for energy now lies with a Department for Energy Security and Net Zero (DESNZ), while the new DSIT picks up digital from the reformed Department for Culture, Media and Sport (DCMS).
This reshuffle raises the question of how civil service resources will be divided between the new departments. While some of these have not yet been allocated, the DSIT's Permanent Secretary will be Rachel Munby (formerly Permanent Secretary of BEIS) and the department will include:
The Office for Life Sciences (OLS) (jointly with the Department for Health and Social Care)
Government Office for Science (GOScience)
Office for Science and Technology (OSTS)
The Director General for Science and Growth
The Director General for Digital and Tech
Key Ministers and policymaker profiles
The responsibilities for the life sciences sector continue to be split between health and business department ministers. This is centrally coordinated by the Office for Life Sciences, with spans both departments. There are also a number of other departments and ministers that are relevant to the sector.
More within