UK biotech financing June – August 2023
UK biotech is on a robust upward trajectory this year, raising a total of £563 million in venture capital and public financings during the three months leading up to September.
This quarter stands out as the strongest period since the historical highs of 2021, representing an impressive 48% increase from the previous quarter's takings. At the current rate, the UK life sciences sector is on track to exceed last year's total fundraisings.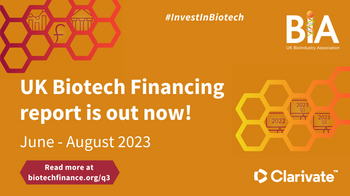 Despite the continuing global economic malaise, the UK biotech sector managed to maintain a consistent quarter-on-quarter increase this year. Although public market launches remain challenging, biotechs made a strong comeback on follow-on fundraisings accumulating £315 million following a sluggish first half of the year. Venture capital fundraisings didn't experience the same acceleration, totalling £249 million, which is a fairly typical sum seen in more recent years.
Internationally, the biotech sector has seen steady growth in attracting capital, securing £10.9 billion worldwide this quarter – a 24% increase since the beginning of this year. European and Asian countries saw a strong recovery. The former doubled the funds raised last quarter. Meanwhile, the US, while maintaining its dominant position in attracting the majority of funding, saw a 21% decrease across all fundraisings.
More within